According to WHO, cardiovascular disease is the leading cause of death in people worldwide and accounts for the largest share of deaths in developing countries. The number of deaths from heart disease and stroke is more than cancer, tuberculosis, malaria, and HIV each year. Vietnam has about 200,000 people dying from cardiovascular disease every year. Heart Association's statistics show that for every 3 adults had one people at risk of cardiovascular disease, mainly coronary artery disease. Cardiovascular disease can be completely controlled and achieved better through regular cardiovascular health checks.
BASIC CARDIAC HEALTH SCREENING PACKAGE | GS-19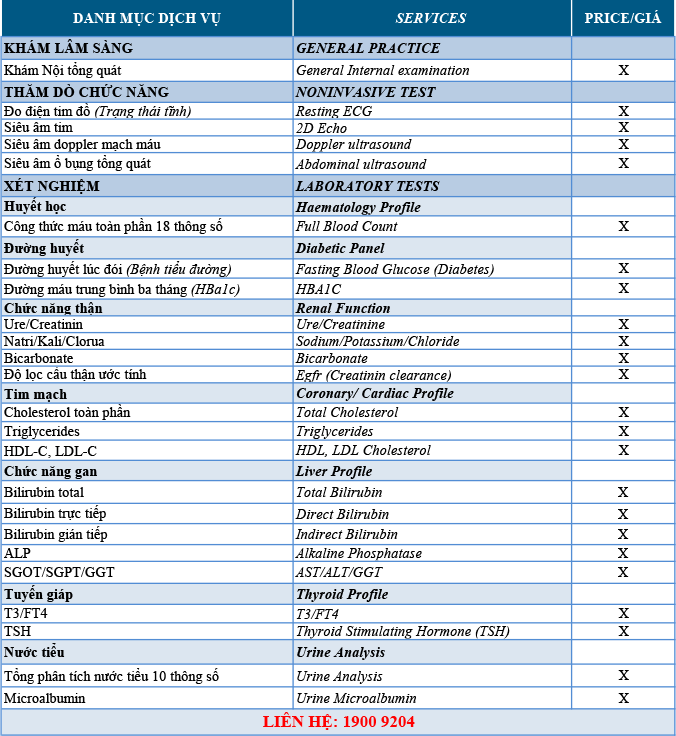 NOTE: The package includes general services for disease screening and detection. If abnormal things are detected, more services can be assigned additionally by doctors.
DR. BINH TELE_CLINIC
No 11-13-15 Tran Xuan Soan, Hai Ba Trung, Hanoi, Vietnam
Hotline : 19009204
Tel: 0243.622.77.99
Email: info@drbinh.com - Website: www.drbinh.com
Facebook: www.facebook.com/biquyetchamsocsuckhoe