Breast cancer is a common disease in women, and the risk of getting cancer is increasing by age, counted to be more than 70% of women after 40 years old and fewer than 10% of women before 30. However, in recent years, the percentage of under-30-year-old women who have breast cancer has increased, which makes the early and periodical breast check-up become vital and increase the percentage of successful treatment.
Visiting to Dr.Binh Tele_Clinic, customers are offered the Breast Cancer Screening Package including the specific assays for breast cancer screening which is researched and built by experienced physicians. Breast cancer screening package of the clinic is designed procedurally, closely, and scientifically, helping customers avoid unnecessary assays which increase the screening price. Dr.Binh Tele_Clinic provides you the most economical and effective breast cancer screening package.
BREAST CANCER SCREENING PACKAGE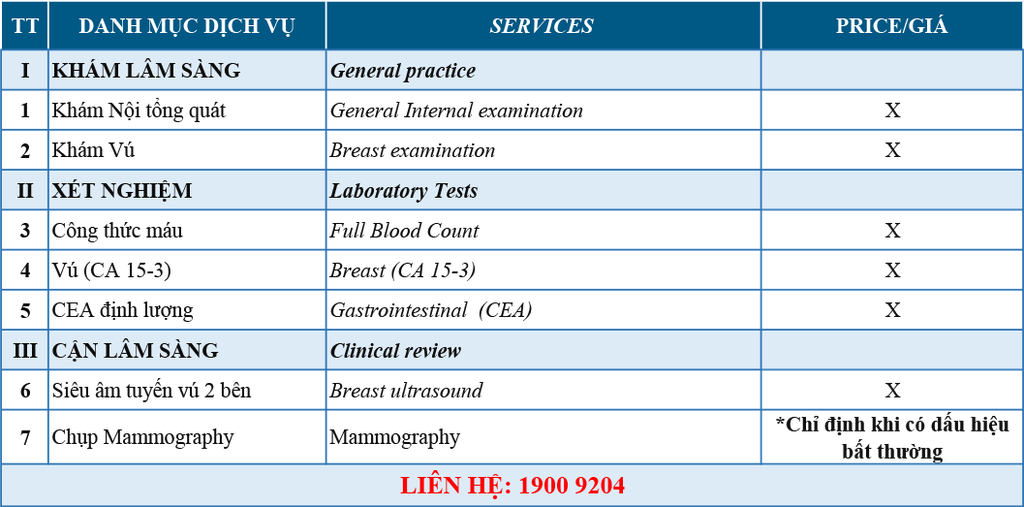 For detailed information, please contact us: 1900.9204
Notes:
- The package includes general services for breast cancer screening and detection. If abnormal things are detected, more services can be assigned additionally by doctors.
People who should do the Breast Cancer Screening Package:
- Women from 40 years old, especially in menopause period;
- Under 40 years old but have the breast cancer family history;
- Frequently have some symptoms like having nodes under the arms without any specific reason, change and discharge from the nipple, etc.