Lung cancer is a common disease in both genders, which takes the leading percentage of death among other types of cancer. Rarely does lung cancer show any symptom in the first stage when its treatment becomes more difficult if the cancer is undetected timely. However, lung cancer examination in people at high risk can detect the cancer in the first stage, or other disease conditions which need being treated, increasing the survival chance.
For the purpose of detecting the cancer early to improve the ability of treatment and survival, Dr.Binh Tele_Clinic offers customers the Lung Cancer Screening Package for both men and women.
LUNG CANCER SCREENING PACKAGE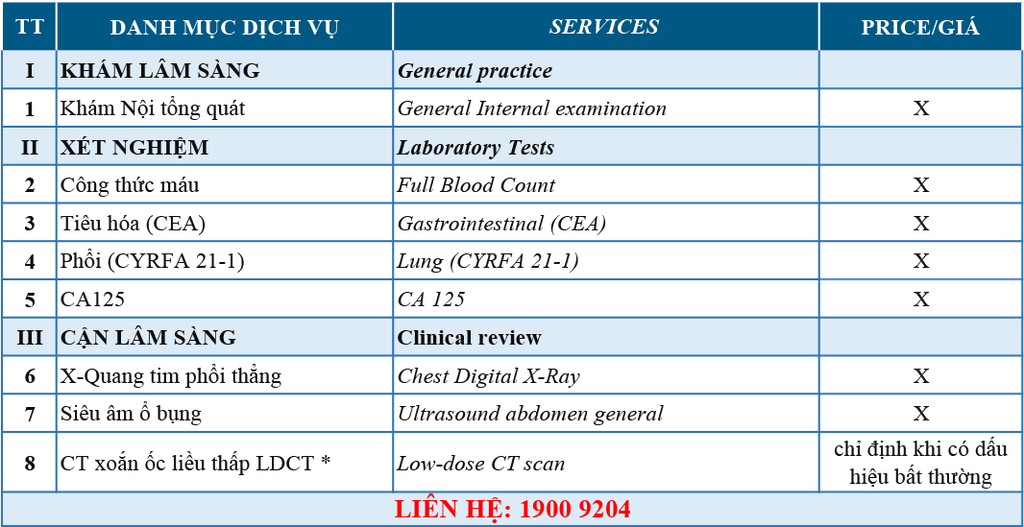 Notes:
- The package includes general services for lung cancer screening and detection. If abnormal things are detected, more services can be assigned additionally by doctors.
People who should do the Lung Cancer Screening Package:
- 40 years old and above;
- Under 40 years old but have the lung cancer family history, people who smoke frequently;
- Frequently have some abnormal symptoms like having chronic cough, difficulty in breathing, a frequent ache in chest area, etc.