Prostate cancer is listed to be one of 5 most common types of cancer in men, which often develops when men are between 40 and 50 years old, and has rejuvenated in recent years. Considerably, when the cancer forms, it develops silently and shows no symptom. Until when the cancer is getting worse, cancer cells spread from the prostate to other organs rapidly, and then cause the death.
Early prostate cancer detection by screening is the key factor of treatment, which increases the percentage of success up to 80%. Dr.Binh Tele_Clinic's Early Prostate Cancer Package offers the most comprehensive and effective cancer detection solution for treatment.
PROSTATE CANCER SCREENING PACKAGE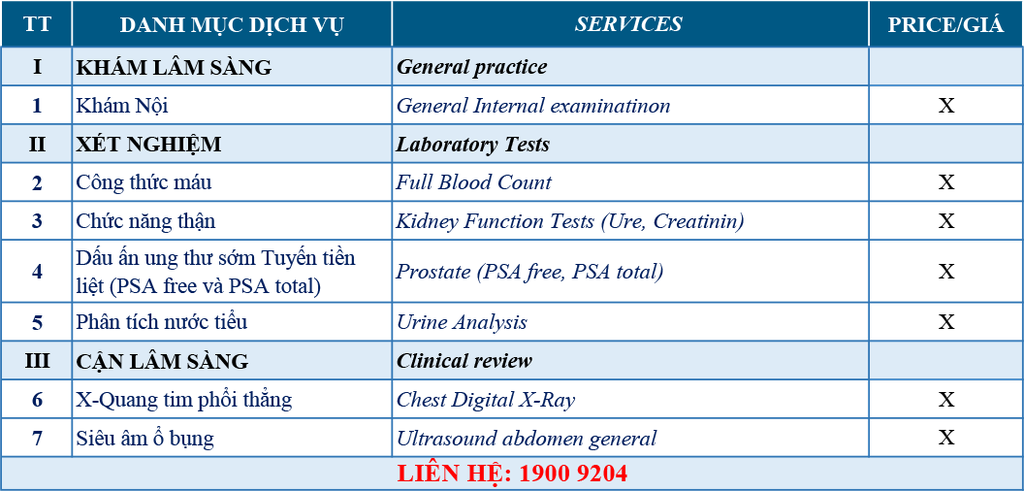 For detailed information, please contact us: 1900.9204
Notes:
- The package includes general services for prostate cancer screening and detection. If abnormal things are detected, more services can be assigned additionally by doctors.
People who should do the Prostate Cancer Screening Package:
- 40 years old and above (the cancer is normally in aging men);
- Under 40 years old but have the prostate cancer family history;
- Frequently have some symptoms like having difficulty in urination with an ache in total urethra area, perineal, or anus after urinating, with the feature of difficult urination, limpid urine, etc.