Thyroid cancer is a rare type of cancer, which is accounted for only 1% in the total of cancer cases, but it is the most frequent type of endocrine cancers. Malignant cancer, if it is not detected early and eliminated timely, will spread widely to other organs and cause the deadliness. In recent years, early thyroid cancer screening has been improved immeasurably, which helps physicians detect cancer when it is just few millimetres.
Thyroid Cancer Screening Package provided by Dr.Binh Tele_Clinic is performed by professional technicians with advance equipment, such as: Chemistry Analyzer of Beckman Coulter (US), Hematology Analyzer of Nihon Kohden (Japan), Urine Analyzer of Siemens (Germany), etc. Customer can do assays quickly and receive absolutely exact results.
THYROID CANCER SCREENING PACKAGE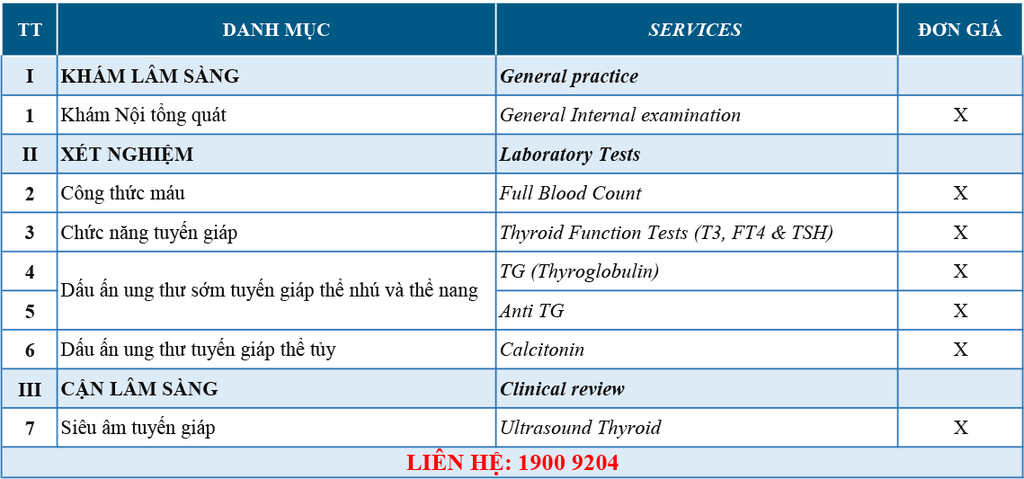 For detailed information, please contact us: 1900.9204
Notes:
- The package includes general services for thyroid cancer screening and detection. If abnormal things are detected, more services can be assigned additionally by doctors.
People who should do the Thyroid Cancer Screening Package:
- 40 years old and above;
- Under 40 years old but have the thyroid cancer family history;
- Frequently have some symptoms like having tumors on the neck, difficulty in swallowing, raucous, lasting cough, etc.