GPP PHARMACY (GOOD PHARMACY PRACTICES) AT DR. BINH TELE_CLINIC
The pharmacy of Dr. Binh Tele_Clinic is proud to be ranked as a pharmacy that meets GPP standards – "Good practice pharmacy". These are indispensable requirements to ensure the health care of the people, especially contributing to improving the quality of pharmaceutical business that Dr. Binh Tele_Clinic has been interested in implementing it since the early days of the clinic's establishment in 2013.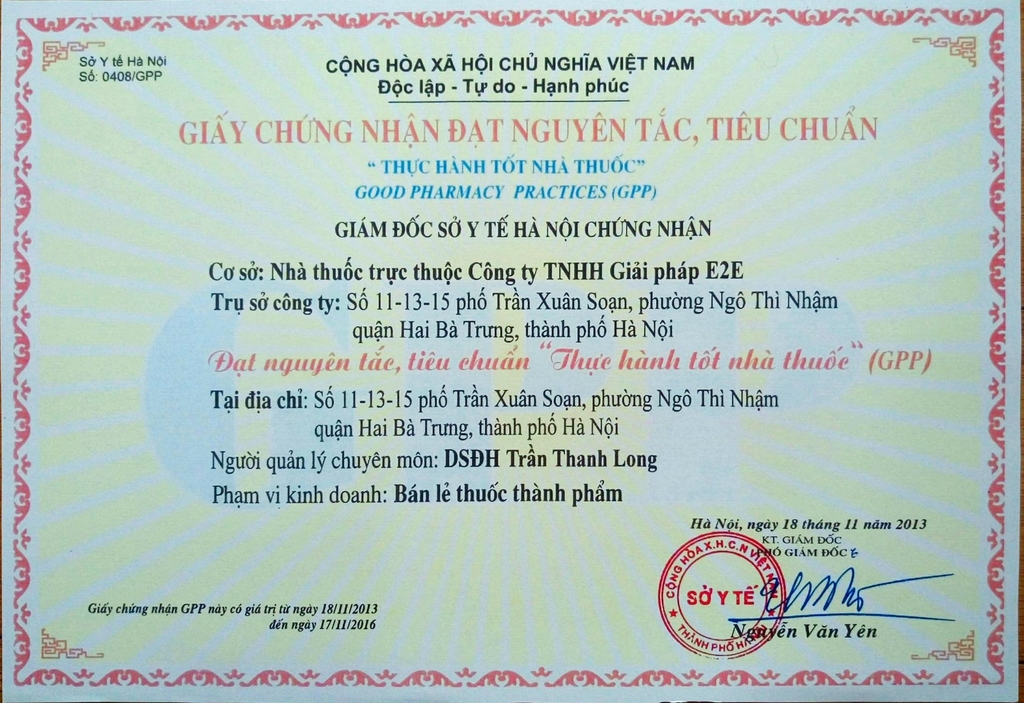 What is a GPP Pharmacy?
GPP stands for "Good Pharmacy Management Practice". The GPP includes the basic professional and ethical principles of professional practice in the pharmacy (management principles and technical standards) to ensure matters related to the interests of consumers; providing quality drugs and products, accompanied by drug information and effective counseling and monitoring; ensure sufficient conditions for facilities and environmental sanitation at the place of drug sale....
GPP is the final and highest standard of the 5 good practice standards (GPs) in the drug quality assurance process:
- From the manufacturing stage: Good Manufacturing Practice – GMP
- Quality control: Good drug testing practice – GLP
- Good Storage Practice - GSP
- Distribution: Good Distribution Practice – GDP
- Distributing to patients: Good pharmacy practice – GPP
Since 1996, the Ministry of Health has gradually issued and applied GMP, GLP, and GSP standards. In January 2007, the Ministry of Health officially issued and applied the remaining two standards (GDP and GPP) to ensure the uniformity and comprehensiveness from production, circulation and retail distribution. All for the purpose of improving the quality, effectiveness of treatment and safety for the community.
Thus, GPP-qualified pharmacies are those that have been evaluated, tested for quality and met the highest standards of a pharmacy that best serves the people.
The pharmacy at Dr. Binh Tele_Clinic also meets the standards of a GPP-certified pharmacy:
- The owner of a pharmacy must have a pharmacist's license and a certificate of pharmacy practice and must be present at the store during its operation;
- Employees who directly sell drugs must have a professional degree in pharmacy and an appropriate practice period;
- Pharmacy staff must wear blouses, clean and neat, with signs clearly stating their names and titles;
- The drug-selling area has a minimum area of 10m2, has a place to wash hands for sellers and buyers, and has enough equipment to store medicines to avoid adverse effects of light, temperature, humidity, pollution, insects.
- Do not use packaging containing advertising contents of other drugs to make medicine bags. For retail drugs that are not contained in their outer packages, the name of the drug must be clearly stated; dosage forms; drug concentration and content. In case there is no accompanying prescription, the dose, frequency of administration and usage must be added.
- It is forbidden to conduct drug advertising activities at drug sales places contrary to regulations on drug advertisement information. Discourage buyers from treating drugs as a common good and encourage buyers to buy more than necessary.
- In addition, the source of drugs must also be purchased from legal pharmaceutical business establishments and only buy drugs that are allowed to be circulated.
- Pharmacy staff must give correct advice to ensure effective treatment for patients. Do not advertise drugs at the establishment contrary to regulations and sell drugs according to prescriptions. Books, records and regularly recording activities of drug purchase and sale shall be kept for at least one year from the date of expiry of the drug's expiry date.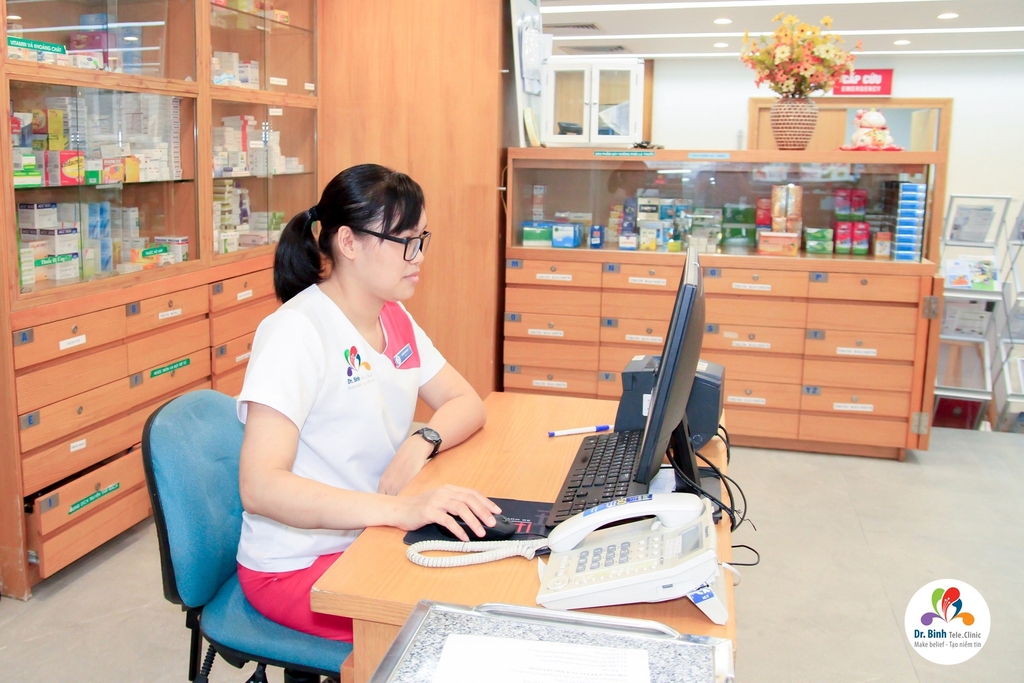 GPP pharmacy Polyclinic Dr. Binh Tele_Clinic is located at the reception hall on the 1st floor of Dr. Binh Tele_Clinic, so it is very convenient for patients and customers to buy preventive and curative medicine for both adults and children.
Pharmacist team of GPP Pharmacy General Clinic Dr. Binh Tele_Clinic is always open-minded, has a high sense of responsibility, and wholeheartedly serves customers. GPP Pharmacy at Dr. Binh Tele_Clinic is equipped with a wide range of drugs, with guaranteed quality, legal origin, and reasonable prices, provided by reputable domestic and foreign pharmaceutical companies.
Our motto is: "Considering the interests of patients as the first concern". Therefore, the GPP Pharmacy at Dr. Binh Tele_Clinic is committed to serving patients the best, ensuring "Safety - Reasonable - Effective".
DR. BINH TELE_CLINIC
No. 11-13-15 Tran Xuan Soan, Pham Dinh Ho Ward, Hai Ba Trung District, Hanoi
Hotline: 19009204
Email: info@drbinh.com – Website: www.drbinh.com
Facebook: fb.com/biquyetchamsocsuckhoe