SPECIAL OFFER ON VIETNAMESE WOMEN'S DAY FOR CUSTOMERS - BOOKING THIS PACKAGE THROUGH MEDIHOME APP
only 493.000đ
🖱️ BUY NOW 🖱️ Valid until: 26/10/2023
Gynecological examination also helps women have more knowledge about reproductive health, and at the same time take measures to avoid dangerous gynecological diseases, sexually transmitted diseases or prevent pregnancy safely.
In fact, women should have regular gynecological examinations about every 6 months to ensure their reproductive health.
Dr.Binh Tele_Clinic has developed a Basic Gynecological Examination Package which includes all needed tests for accurate results, thorough doctor consultation, and extensive guides for health and feminine care.
BASIC GYNECOLOGICAL EXAMINATION
TT

DANH MỤC

TS - 10

I

KHÁM LÂM SÀNG /General pratice

1

Khám Phụ khoa /Gynecology exam for married woman

ü

II

XÉT NGHIỆM /Laboratory tests

2

Phiến đồ âm đạo /Pap'smear

ü

III

CẬN LÂM SÀNG /Clinical review

3

Siêu âm đầu dò âm đạo /Ultrasound uterus & ovary

ü

30% OFF

493,000đ
For detailed information, please contact HOTLINE: 1900 9204
Notes:
- The package includes general services for colon-rectal-stomach cancer screening and detection. If abnormal things are detected, more services can be assigned additionally by doctors.
How do you make an online booking and receive an offer from Dr. Binh Tele_Clinic?
Please do the following steps to buy the package and receive offers from Dr. Binh Tele_Clinic:
Step 1: Download mobile app "Medihome" HERE

Step 2: Register and log in with your personal phone number

Step 3: Scroll down to "Medical services" ==> "See more" ==> CHOOSE EXAMINATION PACKAGE according to your needs -> Select medical records ==> BUY NOW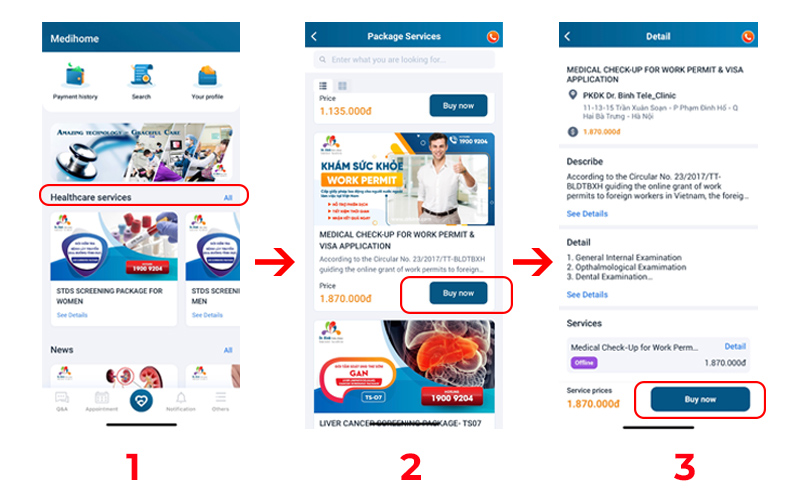 Step 4: In the PROMOTION CODE box: select the code that suits you ==> APPLY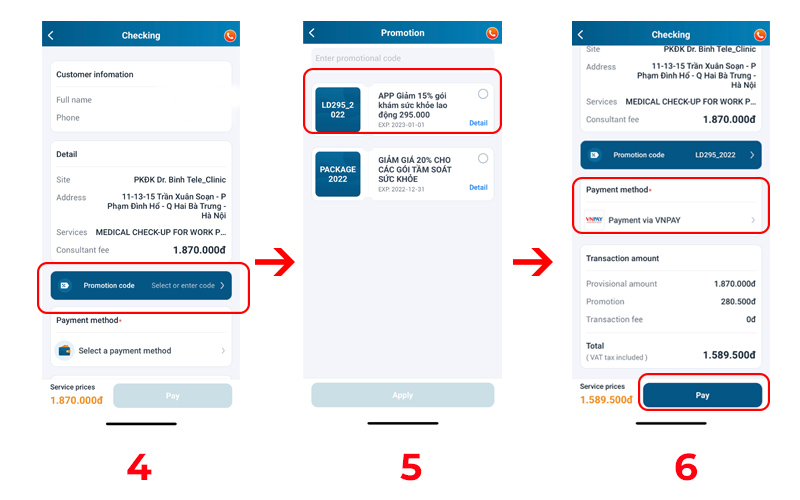 Step 5: Choose a payment method ==> BUY NOW