THE PACKAGE INDICATES THE RISK OF CARDIOVASCULAR EVENT WITHIN 10 YEARS
Cardiovascular disease is now the leading cause of morbidity and mortality, especially in low-middle-income developing countries. In order to prevent and minimize complications caused by the disease, Dr.Binh Tele_Clinic deploys the standard package indicates the risk of a fatal or non-fatal major cardiovascular event (myocardial infarction or stroke) within 10 years according to WHO and American Heart Association criteria.
1. What dose the package indicates the risk of cardiovascular event within 10 years at Dr. Binh Tele_Clinic include?
Every year, in Vietnam, many people suffer from cardiovascular disease, even leading to death due to heart attack or stroke. The rapid increase of this disease is a consequence of the change in lifestyle due to industrialization, and the high mortality rate due to the subjectivity of the majority of the population. Experts recommend that each person should actively check their heart when experiencing abnormal symptoms, and need to have cardiovascular screening twice a year to detect the disease early.
With reasonable costs, the package indicates the risk of cardiovascular event within 10 years includes the following items: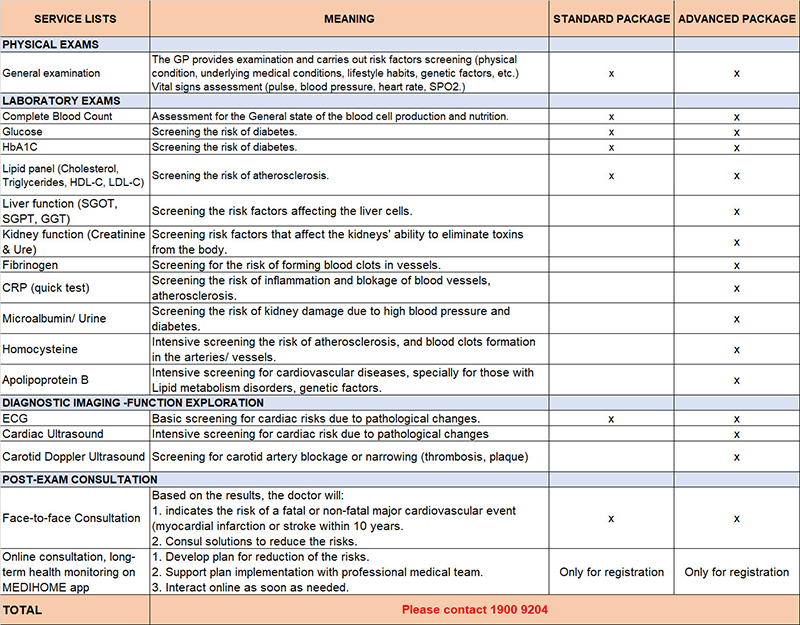 Note:
- During the examination, the doctors of Dr. Binh Tele_Clinic can assign necessary tests and professional procedures depending on the current condition of the customer.
- You need to fast for at least 8 hours before the test to ensure the accuracy of blooth sugar and blood fat test results
- The package is consulted and evalated in accordance with WHO's standard documents.
2. Who should do the package indicates the risk of cardiovascular event within 10 years?
Do you know, regular health screening tests help you know your health status and detect early signs of disease, increasing the success rate of treatment in the early stages up to 30%.
So, who should do this package?
People over 40 years old

People have following risk factors: underlying medical conditions (Cardiovascular disease, diabetes, Lipid metabolism disorder); unhealthy habits (smoke, ….)
Dr. Binh Tele_Clinic has a team of good doctors who are experienced in the field of diagnosis and treatment of cardiovascular diseases. In addition, the clinic is equipped with many new equipment for accurate and in-depth diagnosis, helping to detect cardiovascular diseases at the earliest.
3. How to have an online booking and receive offer from Dr. Binh Tele_Clinic?
Please do the following steps to buy the package and receive offers from Dr. Binh Tele_Clinic:
Step 1: Download mobile app "Medihome" HERE

Step 2: Register and login with your personal phone number

Step 3: Scroll down to "Medical services" -> "See more" -> CHOOSE EXAMINATION PACKAGE according to your needs -> Select medical records => BUY NOW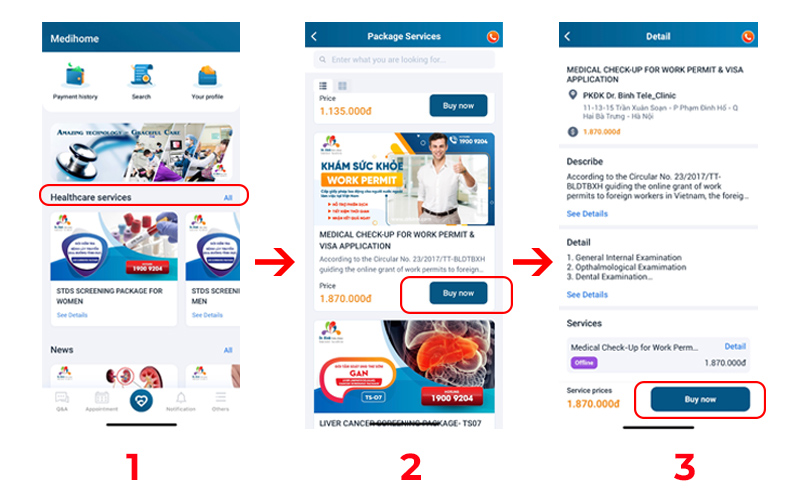 Step 4: In the PROMOTION CODE box: select the code that suits you => APPLY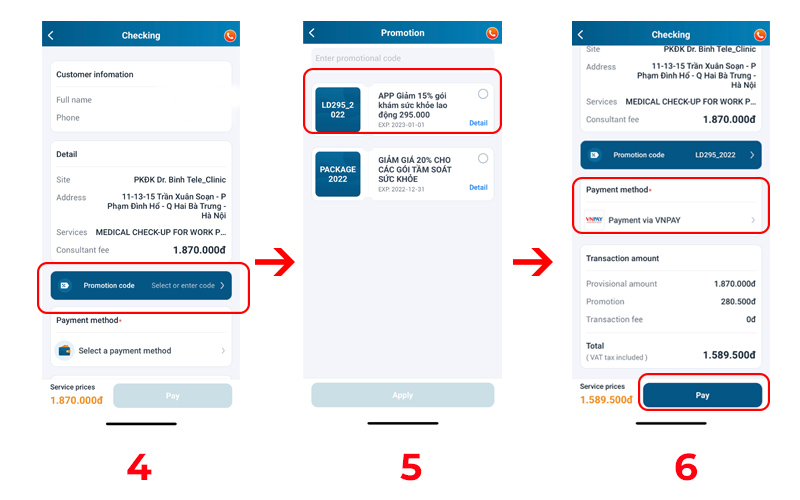 Step 5: Choose a payment method => BUY NOW