DR.BINH TELE_CLINIC SIGNED A STRATEGIC PARTNERSHIP WITH CENTER OF CORPORATE MEDICINE, LLC (RUSSIA)
07/03/2018
-
29 Bình luận
In March 5th 2018, the strategic partnership signing ceremony between Dr.Binh Tele_Clinic and Center of Corporate Medicine, LLC (CCM) took place in Hanoi, which marked a new advance in the solution of providing remote health care-management service for individuals, households, and businesses.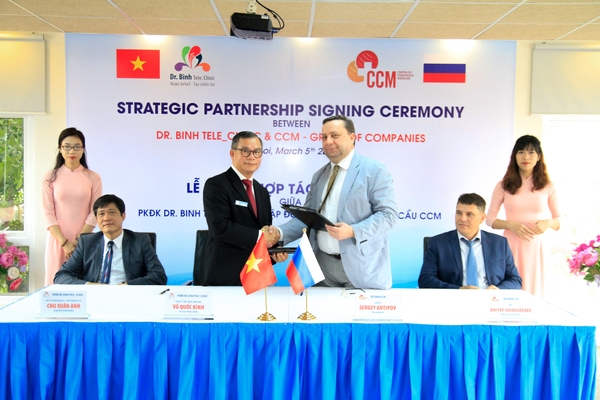 Dr.Binh Tele_Clinic is a leading health establishment in developing as well as applying computing technology and modern mobile equipment, with above 5-year experience in international cooperation with reliable partners like Hope Ambulance, Hope Medflight Asia, Sakura Clinic, Lotus Clinic, and CCM from Russia in this time. CCM has 42 health establishments and 5 representative offices in Russia as well as in other countries. It is also a branch of "Institution of Remote Healthcare" of international stature, as well as a leading corporation in providing healthcare services for oil industry in the world. In Vietnam, CCM now has their own clinic and office in Nghi Son and Vung Tau provinces.
During the signing ceremony, CCM Director – PhD.Sergey Antipov compared notes with Dr.Binh Tele_Clinic Director – PhD, People's Doctor Vu Quoc Binh on the potential cooperation chances between two parties.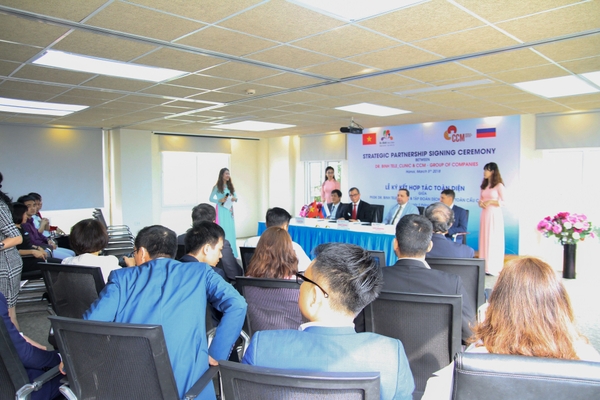 The cooperation between two pretigious units from Vietnam and Russia would bring high effect in health care to citizens and business workers, especially in managing acute diseases, preventing malignant and occupational diseases. Applying remote medical technology with the help of "Online Healthcare Service Center – 24/7 TeleHealth Center", the two clinics offer healthcare services in time at home, minimise the expenditure effectively, and decrease the pressure of patient number in hospitals. 24/7 TeleHealth Center in Hanoi is synchronised with Call Center in Russia, guaranteeing the connection and operation in providing professional healthcare and emergency services as well as domestic and international patient transport among 43 health institutions in 6 countries.
CCM and Dr.Binh Tele_Clinic also offer various training courses in first aid, remote health care, acute disease management, occupational and malignant disease prevention under international standards. This is a new medical service model, which is expected to create numerous changes, especially in the thought of "prevention is better than cure".
4.0 Industrial Revolution is an indispensible trend which has happened everywhere in the world with key factors of digital technology: Artificial Intelligence (AI), Internet of Things (IoT), and Big Data.
Integrating with this trend, Dr.Binh Tele_Clinic has bravely invested in researching and using 4.0 technology in operations like applying IoT in MediHome and MediOffice. Health surveillances as well as measuring and warning gadgets at home relating to IoT technology are connected to the server system in the clinic.
AI has gradually been applied in health care and patient remote support in the clinic through chatbox applications, face and speech recognitions, TeleMedicine for remote check-ups and tests, especially the automatic customer service switchboard system.
Moreover, the clinic has boosted the cooperation with the partners applying Big Data, cloud computing technology and AI in building and analysing medical database (of diseases, medicines, treatment methods, health institutions), supporting in early and exact diagnosis which leads to create the optimally effective treatment and caring methods.
For more information, please contact:
Mrs. Tran Thi Thuong Huyen
Communication undertaking of Dr.Binh Tele_Clinic
Mobile: +84972.200.488
Email: thuonghuyen@drbinh.com
Website: www.drbinh.com