Accouncement of Company trip 2023
Dear Valued Customers/Partners,
Aiming to build a sustainable and cohesive corporate culture among staff, Dr. Binh Tele_Clinic will organize an annual trip this week. This is also an opportunity for us to re-energize to continue to be more enthusiastic in our work and provide customers with better and better medical services.
For the convenience of arranging time to visit the clinic, Dr. Binh Tele_Clinic would like to inform about our schedule for upcoming trip as follow:
Time off: From the afternoon of Friday, April 14, 2023 to the end of Monday, April 17, 2023
Time to return to work: Tuesday, April 18, 2023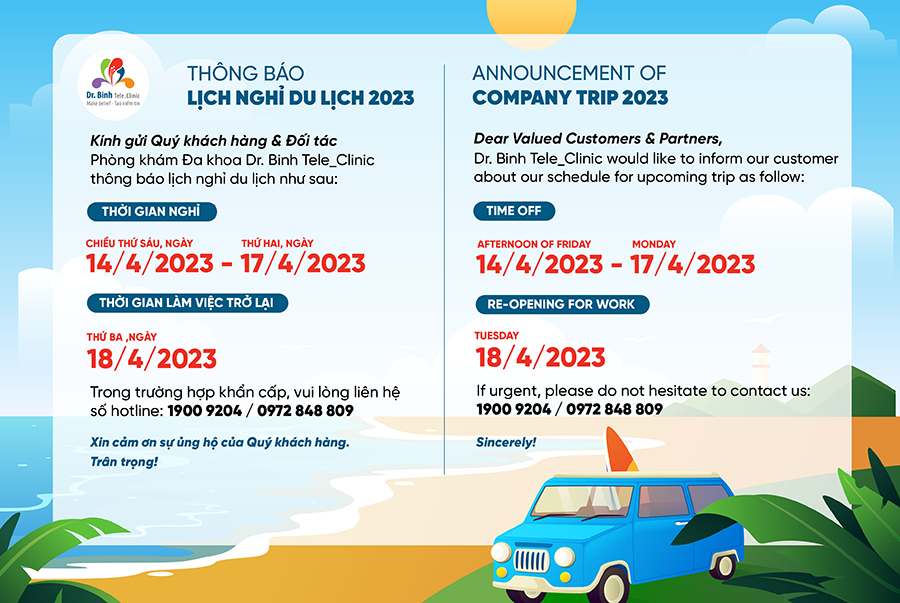 During the above break, all activities at the clinic may be suspended or interrupted, so we ask for your understanding.
In case of emergency, please do not hesitate to contact us for support: Hotline 1900 9204 or 0972 848 809.
Best regards,