Maestro Tetsuji Honna: "I feel my health has improved much better"
Maestro Tetsuji Honna is a well-known and talented conductor in Japan - one of Asia's most musical countries. He has won many major awards at the Tokyo International Music Competition for Conductors (1985); the Toscanini International Conducting Competition in Parma, Italy (1990); the Budapest International Conducting Competition (1992); Muramatsu Prize (1994), Nippon Steel Music Award – Best New Artist (1995); Osaka Stage Arts Encouragement Award for the All Symphonies of Franz Schubert cycle (1997).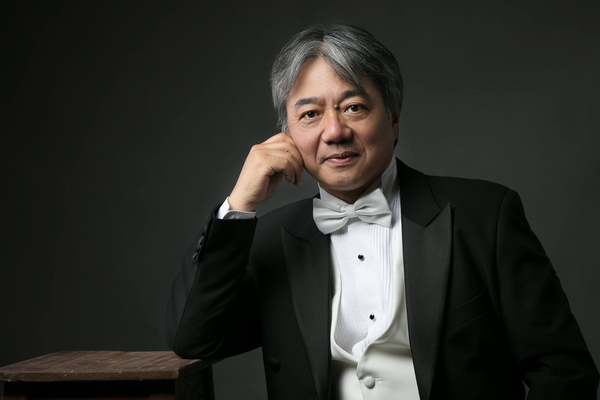 Tetsuji Honna - Music Director and Principal Conductor of the Vietnam National Symphony Orchestra (VNSO). Photo by Hai Nam Nguyen
Since 2009, he has been the Music Director and Principal Conductor of the Vietnam National Symphony Orchestra (VNSO). People's Artist Ngo Hoang Quan said, "Honna Tetsuji has brought life to the Vietnam National Symphony Orchestra, the bridge connecting Vietnamese and Japanese classical music".
With his great contributions, he was awarded the Medal by Vietnamese Ministry of Culture, Sports & Tourism (2012) and many other honors.
Physicist and Artist Nguyen Dinh Dang wrote on his blog, "His play style reminded me of the style of Riccardo Muti, an Italian conductor: very few movements, no rhetoric, and music seem to come out of his body. If Riccardo Muti let go of his finger as if dropping a drop of drums, Honna raised his hand like rubbing a trumpet."
Honna derives joy from the simple act of bringing to people the high quality and quintessential spiritual food that is music; he has traveled to many parts of the world and experiencing many cultures, including the different types of health care. He understands the importance of mental and physical health. However, he found himself still dissatisfied with his health status in the past years, which had had a significant impact on his busy daily work. He was then referred to Dr. Binh Tele_Clinic in Hanoi.
At Dr.Binh Tele_Clinic, Honna believes that he has been very diligently taken care for. Smart-Clinic and MediHome are really useful tools to maintain effective and regular communication between Honna and the clinic. This has enabled doctors to effectively monitor his health condition and drug treatment despite his extremely busy schedule that, at times, prevents him from answering phone calls.
"I feel my health has improved much better. Before, I always felt tired, had no energy, didn't want to walk, just wanted to lie down. Now I see spirits more comfortable, more energy to work. And now I not only want to walk, but also I like running. Thank you for the enthusiastic care of Dr.Binh and the medical staff of Dr. Binh Tele_Clinic." Mr. Honna shared.
Dr. Binh Tele_Clinic would like to give our deepest thanks to Mr. Tetsuji Honna for choosing us and placing his trust in our clinic.
As with Mr. Honna, we will continue to uphold our virtue and values regarding care for patients with chronic diseases. It requires us, as healthcare providers, to care for them as we would our own relatives: meticulous, systematic, and with unwavering perseverance.
We wish Mr. Honna a HAPPY, HEALTHY, COVID-FREE New Year to continue delivering the best of performances!
Hanoi, February 2021.