Coronavirus news and live updates: 24580 confirmed cases, 493 deaths
The Wuhan coronavirus has killed 492 people and infected more than 23,000. Here's everything we know about the outbreak.
Last updated on: 2/5/2020 at 1:00:00 PM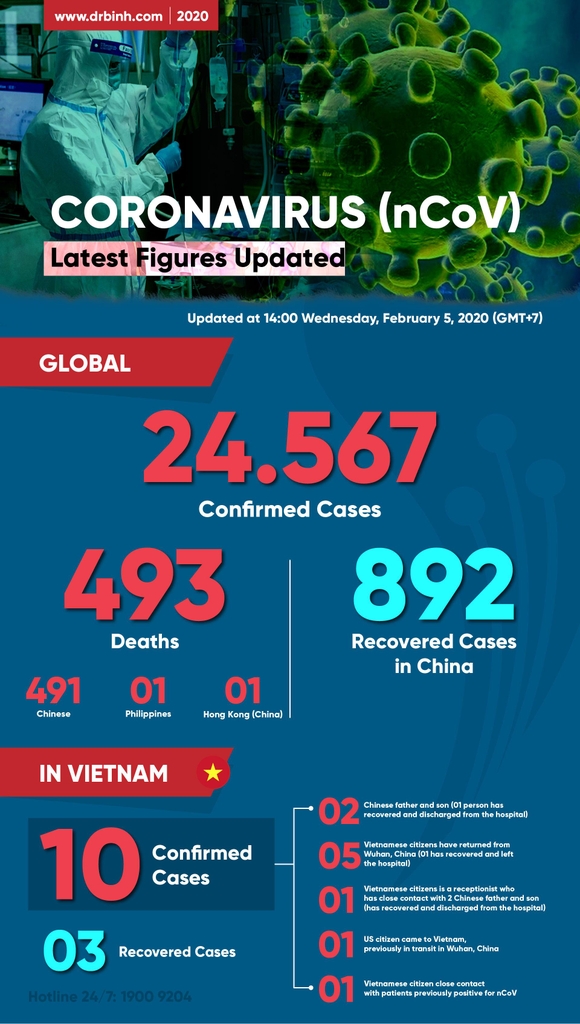 The death toll of a coronavirus outbreak sweeping China has reached at least 492, with more than 23,000 people infected as of Tuesday morning.
A man in the Philippines became the first person to die of the virus outside of mainland China on Saturday, followed by a 39-year-old man in Hong Kong on Tuesday.
The virus has spread to every province and region in China as well at least 25 other countries. The death toll and number of infected patients in mainland China has exceeded that of the 2003 SARS outbreak there (though the total SARS death toll remains higher).
The virus might have jumped from animals to people at a market in the city of Wuhan. Outside of China, cases have been reported in Australia, Belgium, Cambodia, Canada, Finland, France, Germany, India, Italy, Japan, Malaysia, Nepal, the Philippines, Russia, Singapore, South Korea, Spain, Sri Lanka, Sweden, Taiwan, Thailand, the United Arab Emirates, the UK, the US, and Vietnam.
Vietnam has reported 10 cases so far: 02 Chinese father and son (01 person has recovered and discharged from the hospital); 05 Vietnamese have returned from Wuhan, China (01 has recovered and left the hospital); 01 Vietnamese citizen is a receptionist who has close contact with 2 Chinese father and son; 01 US citizen came to Vietnam, previously in transit in Wuhan, China; 01 close contact with patients previously positive for nCoV.
Vietnam's government declared the novel coronavirus an epidemic on Saturday. The country has reported 304 suspected cases with symptoms like high fever and coughing, including some people who had visited infected areas in China, as of Monday. Of them, 214 have tested negative for the virus and 90 are in quarantine pending test results.
The World Health Organization declared a public-health emergency last week and Chinese President Xi Jinping said the virus poses a "grave threat."