Coronavirus Update: US tops world in number of virus cases
The US has more than 85,000 confirmed cases, surpassing China as the country with the most confirmed COVID-19 cases, while EU leaders have failed to agree on fiscal measures to strengthen the economy
More than 536,000 global cases, 24,000 global deaths
According to the worldometers.info statistics, as of 2:30 pm on March 27 (Vietnam time), nearly 530,000 people in 175 countries have gotten the new coronavirus, the number of deaths more than 24,000 people and more than 124,000 recovery cases.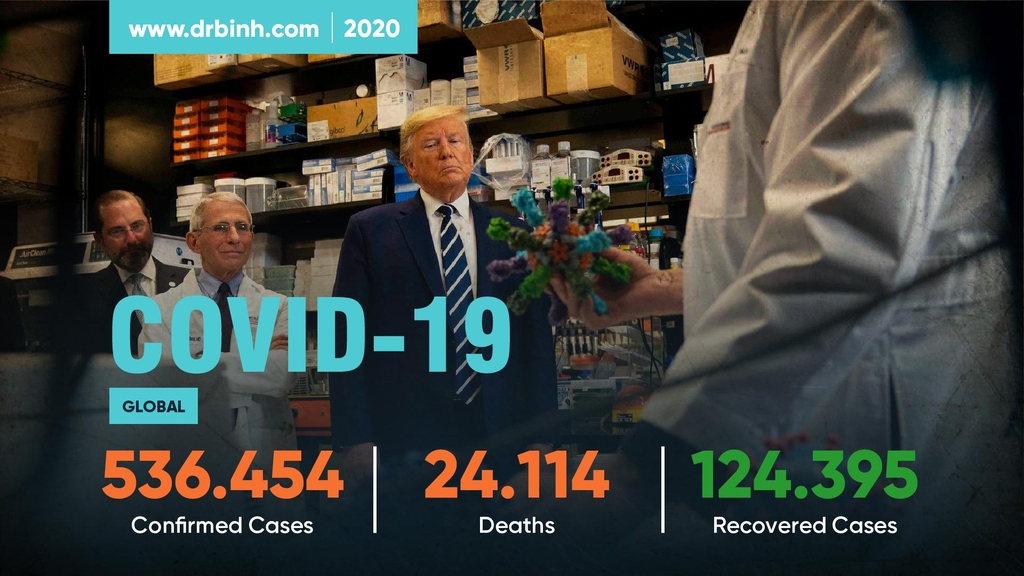 * Italy has the highest number of deaths from the new coronavirus — more than 8,200. On March 21, Italy reported 793 new COVID-19 deaths — the greatest single-day death-toll jump of any country since the start of the coronavirus outbreak in December. (Even at the height of China's epidemic, its highest single-day death toll was 150, on February 23.)
* Spain now has over 4,000 coronavirus deaths, the second-most in the world. The total number of cases in Spain rose to 56,188.
* In other countries in Europe, France reports new spike in coronavirus deaths, bringing total to 1,696. Germany has recorded 43,938 cases and 267 deaths.
* Notably, the UK on March 26 for the first time recorded more than 100 deaths within 24 hours, bringing the total number of deaths in the country to 578 cases. The total number of infections in the country also increased from 9,529 on March 25 to 11,658 on March 26. British health authorities warn of overcrowding of COVID-19 patients in London.
* Vietnam has found 153 coronavirus cases but has had no reported deaths, according to the health ministry. More than 57,000 people are in quarantine. The next 10-15 days would be decisive in Vietnam's fight against the virus, Prime Minister Nguyen Xuan Phuc announced. A series of stronger measures have been introduced to prevent an outbreak.
* Thailand has recorded 91 new cases of coronavirus infection. According to health authorities, the total number of infections in the country is 1,136 cases, of which 5 have died.
USA: More than 85,000 infections, the study predicts the number of deaths could reach 81,000
* According to the Worldometers website at 14:30 on March 27, the number of infections in the US increased to a total of 85,612 cases. The number of deaths due to COVID-19 in the country increased to 1,301.
Thus, the US has the highest number of infections in the world. China ranked No. 2 with 81,340 cases, while ranked third was Italy with 80,589 cases.
* According to Reuters, Mexico recorded 110 new infections and 2 deaths in the past 24 hours. The total number of positive cases with SARS-CoV-2 virus in this country is 585 cases and 8 deaths.
Source: Worldometers, Reuters