COVID-19 update 10/8: Vietnam records 841 cases, 13 deaths in total
In the last 2 days from 8/8 to10/8, Vietnam has recorded 91 more cases, all linked to Da Nang City, raised Vietnam's total count to 841 and active cases to 435.
"Patient 751" is a 45-year-old man from Cam Ranh Town, central Khanh Hoa Province. On July 23, he had traveled to Hanoi to meet his wife and kid, residents of Da Nang's Son Tra District, who were visiting the capital city.
He developed fever on August 1, and was admitted to the General Hospital of northern Hai Duong Province three days later. His test results were positive for the novel coronavirus. The man is being treated at General Hospital of Tropical Diseases 2 in Hanoi.
"Patient 752" is a 30-year-old woman from Phuc Tho District in Hanoi. She traveled to Da Nang with her family from July 24-26. She developed a cough on August 2, and had a slight fever three days later. After her test result came back positive for the coronavirus, she was also taken to the General Hospital of Tropical Diseases 2 in Hanoi.
"Patient 753" is a 30-year-old Filipino who came in on Cathay Pacific flight CX906 of Cathay Pacific, landing at the Tan Son Nhat International Airport in HCMC after transiting in Hong Kong. He was quarantined on arrival. He is being treated at the Cu Chi field hospital in HCMC.
"Patient 754" is a 30-year-old male crew member on gas tanker Texiana from Qatar that docked at the Vung Tau Port on July 28. He was quarantined on entry and confirmed positive for the coronavirus after two tests. Nine crew members of the ship had already tested positive. He is being treated at the Ba Ria Hospital in Ba Ria - Vung Tau Province.
Patients "755 - 771, and 780-784" are from Da Nang. "Patients 772-779" come from central Quang Nam Province. All eight patients of Quang Nam are being treated at General Hospital of Quang Nam.
Also on Friday, three "Patients 387, 410 and 412" were confirmed recovered.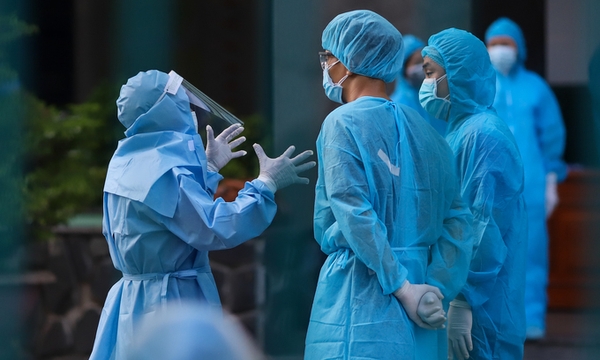 On Saturday, twenty new Covid-19 cases linked to epicenter Da Nang, plus an infected repatriate, raised Vietnam's active infections to 405, the Health Ministry said.
Of the 20 cases linked to the central city, 15 are in Da Nang, two in neighboring Quang Nam, two in Bac Giang and one in Khanh Hoa.
On Sunday, 29 more Covid-19 cases was confirmed. Patients numbered 813 to 831, aged 7 to 85, are Da Nang residents. Among them, eight had direct contact with people later confirmed as Covid-19 patients, three were patients at the Da Nang Hospital, three were those taking care of patients at the same hospital, and one a medic.
"Patients 832 and 833", aged 29 and 37, are from Quang Tri Province, a neighbor of Da Nang. They had direct contact with a 28-year old man in the same province who later became "patient 750".
Patients 834 to 841, aged 11-70, are from nearby Quang Nam Province, who had returned from Da Nang or had direct contract with those returning from Da Nang.
With two recorded in the morning, Sunday's tally of new Covid-19 cases reached 31. Among 841 confirmed cases nationwide, 435 are active, and 11 have died.
Also on Sunday, one more Covid-19 death confirmed, a 55-year old woman in Da Nang is the country's 11th Covid-19 fatality, the Healthy Ministry confirmed Sunday afternoon. "Patient 456", a resident of the central city's Hai Chau District, was admitted to the Hoan My-Da Nang General Hospital on July 28 and tested positive for the novel coronavirus on July 29. She'd had hypertension for years.
On 10/8, no more new case of Covid-19 but Vietnam confirmed two more Covid-19 deaths. Two women 33 and 47 years of age, both suffering from late-stage kidney failure, died Monday morning, bringing the tally of Covid-19 fatalities in Vietnam to 13.
The two latest deaths were Vietnam's 12th and 13th fatalities to Covid-19. Most of the deaths so far were patients with underlying conditions, including kidney failure, heart failure, cancer and hypertension.
Vietnam has confirmed 841 Covid-19 cases, 433 being active cases. 395 have been announced recovered from the disease.
Some symptoms of Covid-19 is likely flu so you have to do some tests as soon as you can. Otherwise, call your primary care provider and discuss symptoms before visiting a healthcare facility, or book online video doctors visit/telehealth consultations through mobile app Medihome or call healthline 19009204 in Vietnam.
Medihome is one of the best-known telehealth providers that allows patients to receive medical advice and instructions at home by providing them with a platform to connect with real doctors.
Users can make health-related inquiries, look up medications, and search for the nearest clinics and pharmacies at the comfort of their own home.
For patients who prefer to see their doctor in person, Dr.Binh Tele_Clinic is always open and continue to welcome patients for their appointments. The health care organization is closely monitoring COVID-19 and is following guidance from the Center for Disease Control and Prevention, and World Health Organization, MOH of Vietnam in the care of patients.