COVID-19 Update 13/8: Vietnam records 17 new cases, loses another patient
In the last 24 hours, Vietnam has reported 17 new Covid-19 cases and one more death.
14 more people tested positive with Covid-19
On Wednesday evening, 14 new Covid-19 cases are confirmed, with 13 of them in Da Nang City and one in Hanoi. And in the morning of Thursday Aug 13, Vietnam records three more new cases.
"Patient 867", 63, lives in Binh Giang District in the northern province of Hai Duong. On July 31, he felt tired and started coughing. On August 8, he went for a checkup at the 108 Military Central Hospital in Hanoi before going to his daughter's home in Hanoi's Thanh Tri District.
On August 9, he was admitted to the Thanh Nhan Hospital in the city and diagnosed with pneumonia. He tested positive for the novel coronavirus twice on August 10 and 11.
"Patients 868-880", aged 26-83, are all in Da Nang City. They were either patients at Da Nang hospitals or came into direct contact with people later confirmed to be carrying the novel coronavirus.
"Patient 881", 40, is the Saudi Arabian returnee. She landed in southern Can Tho City on August 9 and was sent to quarantine right after entry. Her test arrived as positive two days later.
"Patient 882" is a 51-year-old man registered in Go Vap District of Ho Chi Minh City and currently lives in central Quang Nam Province, which borders the epicenter Da Nang.
On July 28, he took care of his mother at a general hospital in Quang Nam. The mother later became "patient 524," a 86-year-old that had died of Covid-19 along with a series of other conditions which are septic shock, acute respiratory failure, and multiple organ failure.
He also had contact with a woman later diagnosed with Covid-19. Via contact tracing, he was isolated and tested. The result came back as positive on Wednesday.
"Patient 883" is a 83-year-old woman in Quang Nam. She is mother of a woman that has been confirmed to have Covid-19. On July 9, she came to stay at the Da Nang Hospital for treatment and returned home on July 9. Her tests arrived as positive on Wednesday.
With the latest three cases on Thursday, Vietnam's Covid-19 count now stays at 883, including 457 active cases and 409 recoveries.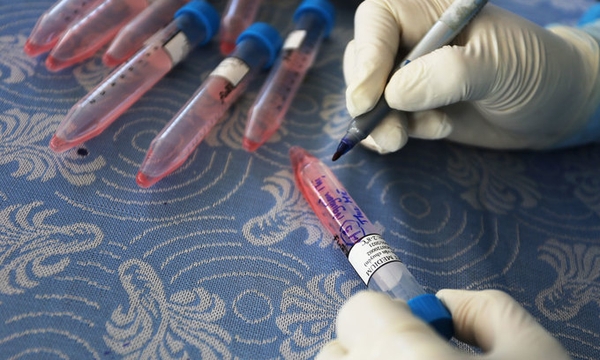 Vietnam has 18 deaths related to Covid-19
She is "patient 485", confirmed dead due to pneumonia caused by Covid-19, end-stage of renal failure, high blood pressure and type 2 diabetes, the Health Ministry said Thursday morning.
A resident in Cam Le District of Da Nang, she was treated at Da Nang Hospital for her kidney disease from July 15 to 31.
On July 31, she was diagnosed with Covid-19.
She was then transferred to the Da Nang Hospital for Lung Diseases.
The next day, she suffered respiratory failure and was sent back to Da Nang Hospital.
On August 4, she was brought to the medical center in Da Nang's Hoa Vang District when she fell into deep coma, had high fever and was on ventilator. She stayed there until death.
She makes the 18th Covid-19 fatality in Vietnam. The rest aged between 33 and 86 and all suffered several comorbidities, renal failure being the most common.
Of the previous deaths, 15 were in Da Nang, now the country's outbreak epicenter, two in the neighboring province of Quang Nam and one in nearby Quang Tri.
Source: vnexpress