COVID-19 Update 7/8: Vietnam records 10 deaths, 750 cases in total
Vietnam records 750 cases in total, 10 deaths
Twenty of the new cases are in Da Nang, six in neighboring Quang Nam Province, two in Quang Tri Province, one in the northern province of Bac Giang Province and one in Sam Son town of Thanh Hoa Province, all linked to Da Nang outbreak.
One of the confirmed cases in Da Nang, "Patient 718," a 67-year-old woman, died of Covid-19 and other diseases Wednesday afternoon, making her Vietnam's 10th Covid-19 fatality.
Patients numbered 719-723 and 730, aged 30-51, were recorded in Quang Nam. Among these are two patients and a caretaker at the Da Nang Hospital and three people who had been in close contact with patients at the hospital who were later diagnosed with Covid-19. All six are now quarantined for treatment at the Quang Nam Central General Hospital.
Patients numbered 724-729 and 731-743, aged 1-69, were recorded in current Covid-19 hotspot Da Nang. Nine of them had come into close contact with Covid-19 patients. Five of them are patients, three caretakers and another a medical worker at Da Nang medical facilities. Another new patient is from Da Nang's Thanh Khe District, whose contact history has not been clarified.
"Patient 744" is a 7-year-old girl in Bac Giang who had been in close contact with two previously confirmed Covid-19 patients and was in the same tourist group to Da Nang with three other Covid-19 patients. She's now being treated at the National Hospital for Tropical Diseases in Hanoi.
Patients numbered 745-747 were on a ship which traveled from Qatar and docked July 28 at the Vung Tau Port in Ba Ria-Vung Tau Province. They were quarantined upon arrival and are now being treated at the Long Dien District medical center. Six others on the ship had previously been confirmed infected.
"Patient 748" is a 54-year-old woman in Sam Son Town of Thanh Hoa Province in the north central region. She had contact with a person who got infected from the outbreak in Da Nang.
As she was isolated, her samples were taken for testing on Wednesday. The result turned out positive the next day.
Patient numberes 749-750 is 27 and 28 years old. They live Quang Tri Province in central Vietnam. "Patient 749" stayed at the Da Nang Hospital to take care of a sick family member from July 17. Four days later, she started developing Covid-19 symptoms of slight fever, sore throat and muscle pain. "Patient 750" is a 28-year-old man residing in Dong Ha District of Quang Tri. He is a friend of a previous infected case and came into close contact with that case on July 18.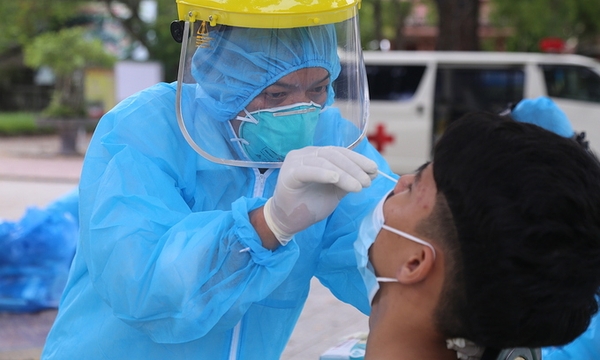 With the three latest patients, locally transmitted cases have spread to two more Vietnam provinces, Thanh Hoa and Quang Tri.
The epicenter Da Nang got 193 cases. Its neighbor Quang Nam Province got 29 cases, HCMC eight, Hanoi three. Other cities and provinces with community infections are Dak Lak, Quang Ngai, Dong Nai, Thai Binh, Ha Nam, Bac Giang and Lang Son. All cases in other places are linked to Da Nang.
Vietnam has reported 750 cases of Covid-19 since the beginning of the pandemic. Of them, 392 have recovered, 10 died and 348 are still in hospitals.
The nation is putting more than 170,000 in quarantine.
Around the world, the pandemic has killed more than 716,300.ang Hospited to Da Nang Hospital recorded 37 more cases, totally
Some symptoms of Covid-19 is likely flu so you have to do some tests as soon as you can. Otherwise, call your primary care provider and discuss symptoms before visiting a healthcare facility, or book online video doctors visit/telehealth consultations through mobile app Medihome or call healthline 19009204 in Vietnam.
Medihome is one of the best-known telehealth providers that allows patients to receive medical advice and instructions at home by providing them with a platform to connect with real doctors.
Users can make health-related inquiries, look up medications, and search for the nearest clinics and pharmacies at the comfort of their own home.
For patients who prefer to see their doctor in person, Dr.Binh Tele_Clinic is always open and continue to welcome patients for their appointments. The health care organization is closely monitoring COVID-19 and is following guidance from the Center for Disease Control and Prevention, and World Health Organization, MOH of Vietnam in the care of patients.