Dengue Fever Outbreak plagues Vietnam with 24 deaths
On August 10, 2018, The Ministry of Health announced that there were 80,555 dengue fever cases reported throughout Vietnam, of which 24 have been fatal.
From MOH's report, the number of cases has rocketed up 33% over the same period of 2016, which had 110 876 cases throughout the whole year with 36 reported deaths. Among those, nearly 70 000 had to be hospitalized.
Ho Chi Minh city has the highest number of dengue patients, at 16 534, in the country. In the second place is Hanoi with 15 000 cases, six times higher than last year. However, the Capital has the fastest spreading rate in the country, with 7 fatalities mostly caused by bleeding in the brain, or brain hemorrhages. This high number is uncommon compared to previous years with only 1 to 2 deaths.
Despite government's endless efforts, the epidemic hasn't shown any sign of decline - the number of newly infected patients and hospitalized individuals increase at an alarming rate. More dangerously, most of hospitals have been overloaded and some have to rejected admitting new patients. It is reported to be the worst outbreak in recent years in Vietnam.
The Danger of Dengue Fever
Dengue fever is a painful, debilitating mosquito-borne disease, and is transmitted by the bite of an Aedes mosquito infected with a dengue virus. The mosquito becomes infected when it bites a person with dengue virus in their blood, mostly in the day light (generally 8-12pm). It can't be spread directly from one person to another person.
Yet, it is still one of the biggest killers out of Vietnam's 28 common infectious diseases. Victims often display symptoms of:
Sudden, High fever over 6-7 days

Fatigue

Dizziness/severe headaches

Stomachaches

Vomiting

Rashes
The most serious cases may lead to hemorrhaging, loss of consciousness, respiratory failure and abnormal liver and kidney functions. Dengue fever may also lead to rare heart conditions. Worse, patients can suffer bleeding on the brain just three days after contracting the mosquito-borne virus, even when they appear healthy, as Dr. Nguyen Thuy Lan (Vice-Director of Dr.Binh Tele_Clinic) said.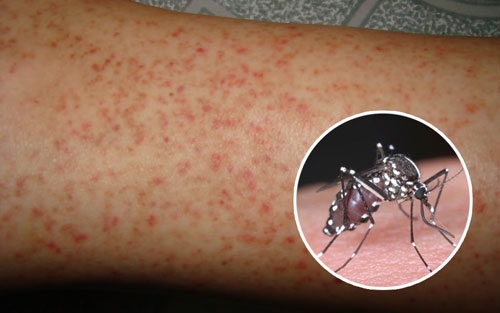 Preventing the mosquito-borne disease from spreading is difficult. One of the contributing factors to the spreading of the fever across the country is unusual hot weather conditions caused by a strong El Nino, according to Vietnamese health experts. The rainfall with high temperatures create ideal conditions for mosquitoes.
These mosquitoes thrive in areas with standing water, including puddles, water tanks and old tires. A lack of reliable sanitation and regular garbage collection also contribute to the spread of mosquitoes.
There is currently no specific vaccine or treatment existed for Dengue fever in Vietnam, so people can only do their best to prevent infection.
Prevention
As Dengue Fever outbreak plagues Vietnam, government is organizing health campaigns to raise awareness of the outbreak as well as preventive measures of the spreading.
The most effective way now is destroying favorable habitats where mosquitoes breed. Health workers have been sent throughout the countries to every neighborhood to spray mosquito repellent. For each individual, we need to keep our living environment clean, apply mosquito-repellent, wear long-sleeved shirts and long pants and avoid crowded areas as well as unsanitary places.
Sometimes, the disease can be mistaken for those of the flu or another viral infection. The most obvious symptoms are sudden high fever with the skin rash/red dots under the skin. If the skin is stretched and the red dots are still visible, it is high chance a symptom of dengue fever, not mosquito bite.
Health authorities have advised people with any shown symptoms to get hospitalized as soon as possible for check-up
Dr. Binh Tele_Clinic offers one of the fastest and trustworthy dengue fever examination and blood test with reasonable price in Hanoi.
If you see any symptoms listed above, contact our hotline at (+84)972.848.809 or make an online appointment on our websites: en.drbinh.com