EMERGENCY ALERT NO.19 FROM THE MINISTRY OF HEALTH
The Ministry of Health recommends actions taken by:
All the visitors, carers or patients in Da Nang hospital from July 1st.

All the passengers in the flight VN166 from Da Nang to Ha Noi at 8:30 am, July 25th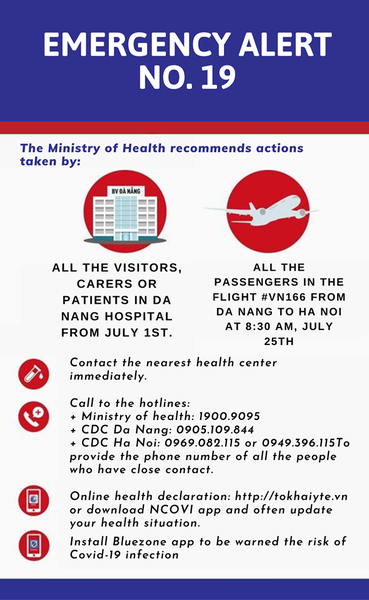 The Ministry of Health recommends all people who have been to these above locations should:
Contact the nearest health center immediately.
1- Call to the hotlines:
+ Ministry of health: 1900.9095
+ CDC Da Nang: 0905.109.844
+ CDC Ha Noi: 0969.082.115 or 0949.396.115
2- To provide the phone number of all the people who have close contact.
3- Online health declaration: http://tokhaiyte.vn/ or download NCOVI app and often update your health situation.
4- Install Bluezone app to be warned the risk of Covid-19 infection