First Vietnamese volunteers receive injections of "made-in-Vietnam" COVID-19 vaccine
The first human trials of locally-made COVID-19 vaccine Nanocovax began on December 17 with the first three volunteers receiving their injections at the Vietnam Military Medical University.
The trio, one man and two women aged 20-25, were selected randomly after screening in line with the set regulations.
According to Professor, Dr. Do Quyet, Director of the Hanoi-based military academy, his facility is fully prepared for the clinical trial of the phase 1 vaccine, as it has satisfied all the conditions to facilitate the volunteers when vaccinating.
In addition, other hospitals are ready to support the Military Medical University, Quyet said.
The criteria for selecting volunteers is different in each of the three stages but the most important factor is they have knowledge on the trials and are consulted before making their own decision. They are monitored before, during and after the start of the clinical trials. The relevant procedures are strictly followed under the supervision of an ethics committee consisting of leading experts from across the country.
Volunteers are screened before injection at the request of the Ministry of Health to ensure the interests of participants. So far, nearly 300 people have registered for the vaccine trials.
The Nanocovax vaccine has been researched and manufactured by NANOGEN Pharmaceutical Biotechnology Joint Stock Company, being put into clinical trial in a short time thanks to shortened procedures. However, this vaccine must still be safe.
Stage 1 vaccination will begin on three people in the 25 mcg dose group.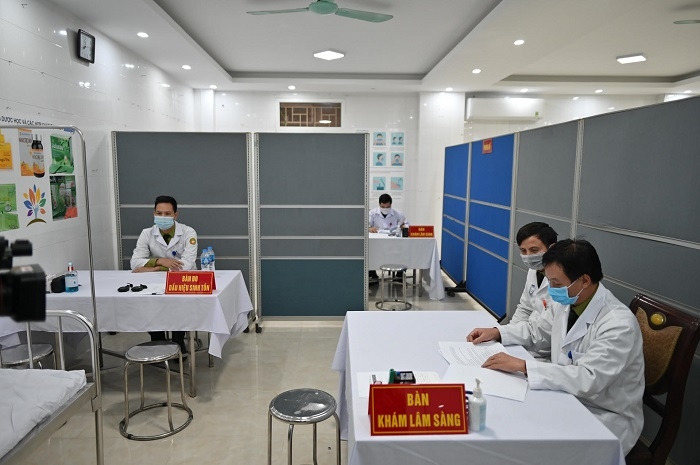 60 volunteers are being divided into three groups to receive three doses of 25 mcg, 50 mcg and 75 mcg in order to evaluate the optimal dose.
Group 1A, consisting of 20 volunteers, will receive a dose of 25 mcg, Group 1B consists of 20 at a dose of 50 mcg and Group 1C with the other 20 receiving a 75 mcg dose. All participants in phase 1 receive two intramuscular injections, the interval between shots being 28 days.
They will stay in separate rooms at the academy for the first 72 hours for medical assessment. They will continue to be closely monitored at their residences for the next 56 days.
Although the vaccine is hopefully soon to be considered an effective weapon to fight COVID-19, experts have warned the public to maintain their awareness on preventing and fighting against the pandemic and to comply with all recommendations from the Ministry of Health on epidemic prevention.
At present, COVID-19 vaccines around the world can only meet one fifth of global population and also give priority to developed countries. Nanocovax is a Vietnamese product and is intended for use by Vietnamese people.
Source: Nhandan