HCM City Extends Social Distancing For Two More Weeks
Ho Chi Minh City continues imposing city-wide social distancing measures under the Prime Minister's Directive 16 for an additional 14 days from 0:00 on August 2.
Vietnam has confirmed an additional 3,201 coronavirus cases in 20 cities and provinces across the country during the past 12 hours, with Ho Chi Minh City alone registering close to 2,000 cases.
Of the total, 3,198 cases were locally acquired and three cases returned from overseas, the Ministry of Health (MoH) in its 6 am coronavirus update on August 2. Notably, 976 cases were detected in the community through test screening or random testing at healthcare facilities, while the rest were recorded in the quarantine and lockdown areas.
Ho Chi Minh City, the country's largest coronavirus hotspot, led all cities and provinces in case of numbers, documenting 1,997 new infections. It was followed by Binh Duong 496, Dong Nai 189, Can Tho 119, Tien Giang 79, and Vinh Long 50, all in the south, Elsewhere, central and northern provinces logged new cases, including 76 in Da Nang, 46 in Hanoi, 14 in Binh Dinh, 13 in Ninh Binh, and 10 in Dak Nong.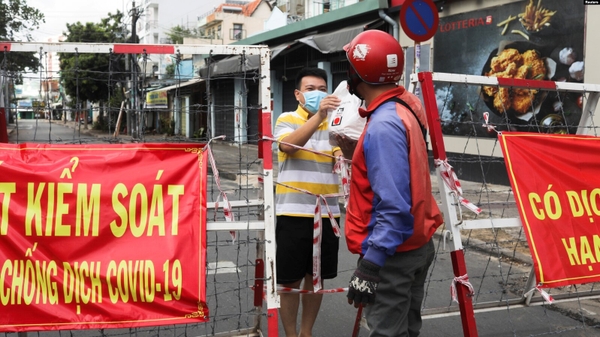 Over 1,100 enterprises in Bac Ninh industrial zones resume operations
According to a representative of the Management Board of Bac Ninh Industrial Parks, as many as 1,104 out of 1,120 enterprises at Bac Ninh industrial zones have resumed operation. 314,203 out of 320,485 workers have returned to work with strict pandemic prevention measures in place, the representative said. Currently, businesses in Bac Ninh industrial zones are having a lot of orders.
Despite suffering impacts from the Covid-19 outbreak in May and June, enterprises in Bac Ninh's industrial zones earned production value of nearly VND 550,000 billion (USD 23.8 million) in the first six months of the year, up 11 percent compared to the same period last year.
Bac Ninh and neighboring Bac Giang were heavily affected by the fourth wave of Covid-19 outbreaks that hit the country since late April. Bac Ninh has 10 industrial zones and 26 industrial clusters with over 1,100 enterprises employing a total of 450,000 workers who come from 21 cities and localities nationwide.
Ho Chi Minh City extends social distancing for two more weeks
Ho Chi Minh City continues imposing city-wide social distancing measures under the Prime Minister's Directive 16 for an additional 14 days from 0:00 on August 2. The decision was made by the Chairman of the municipal People's Committee Nguyen Thanh Phong on August 1.
Phong asked the heads of departments and branches, the Chairpersons of the People's Committees of Thu Duc city and districts and local businesses to direct the stronger, more drastic, and effective implementation of prevention and control measures, step up dissemination, and ask locals not to leave their places of residence for another locality until the end of social distancing. He requested departments, sectors, and localities to conduct quicker Covid-19 vaccination and ensure the supply of food and foodstuffs for poor laborers and those in sealed-off areas as well as the provision of protective equipment for medical staff as guided by the Health Ministry.
Ho Chi Minh City has experienced 63 days of social distancing at different levels. From 7 pm on July 31 to 6 am on August 1, the city documented additional 2,027 Covid-19 infections.
Source: VietnamTimes