IM, IA Steroid Injections Prove Noninferior in Knee OA
Intramuscular injections of glucocorticoids have efficacy similar to that of intra-articular injections in reducing pain in knee osteoarthritis but without the concerns about joint infection and the challenges of administration, according to results from a randomized, controlled trial reported at the OARSI 2021 World Congress.
Intra-articular injections of glucocorticoids are commonly used to relieve OA pain, but some general practitioners have difficulty administering them to patients, said Qiuke Wang, a PhD candidate at Erasmus University Medical Center in Rotterdam, the Netherlands. There are also concerns about whether intra-articular injections may cause damage to knee cartilage, Wang said at the conference, which is sponsored by the Osteoarthritis Research Society International.
Wang and colleagues conducted a randomized, controlled trial in which 145 patients with symptomatic knee OA received either an intramuscular or intra-articular injection of 40 mg triamcinolone acetonide, and then followed up at regular intervals for 24 weeks.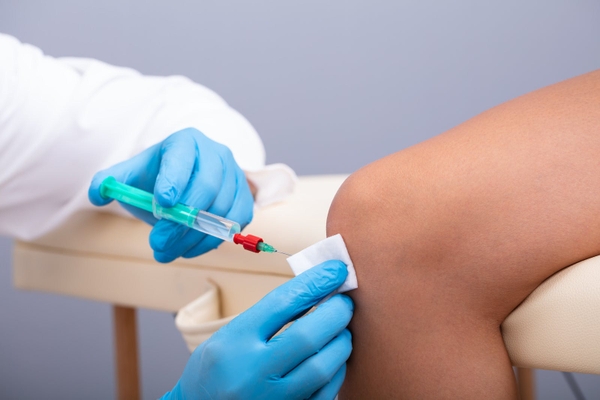 The study showed that Knee Injury and Osteoarthritis Outcome Scores for pain improved in both the intra-articular and intramuscular groups. Improvements in pain scores peaked in the intra-articular injection group at the 4-week mark, when the difference with intramuscular injections was statistically significant. However, the two groups showed no significant differences in pain improvement at the 8-, 12-, and 24-week follow-up points.
"Intra-articular injection can act immediately on inhibiting joint inflammation after injection," Wang said in an interview. "In contrast, for intramuscular injection, glucocorticoid needs firstly to be absorbed by muscle into blood and then travel into the knee via the circulatory system."
The study also showed no significant differences between the two groups in the secondary outcomes of patient symptoms, stiffness, function, and sport and quality of life scores. There were more adverse events in the intra-articular injection group: 42% of patients reported an adverse event, compared to 33% in the intramuscular group, and the adverse events reported in the intramuscular group were nonserious events, such as headache and flushing.
Wang told the conference that while the intramuscular injection was inferior to intra-articular injections at 4 weeks, it was noninferior at 8 and 24 weeks and should be considered an effective way to reduce pain in patients with knee OA.
"This trial provides evidence for shared decision making because in some cases a patient may have a preference for specific injection and the GP may feel incompetent to administer the intra-articular injection," he said.
An audience member pointed out that there was now a growing body of evidence suggesting that intra-articular injections may contribute to faster progression of knee OA because of effects on knee cartilage.
Wang acknowledged that their own research had shown these side effects of intra-articular injections, which was why the trial was intended to examine whether intramuscular injections might achieve the same pain relief.
"In the real practice, I would say that both injections are effective, but the intra-articular injection may provide a slightly [better] effect in the short term," he said.
Commenting on the findings, Martin van der Esch, PhD, of Amsterdam University of Applied Sciences, said there were no guidelines as to whether intra-articular or intramuscular injections were the best option, so it really came down to the clinician's decision.
"Therefore this is really an interesting study, because it gives some light – not the answer – but some light in what direction it could go for specific groups of patients," van der Esch said in an interview.
Van der Esch suggested that intramuscular injections might be more appropriate for patients with more systemic disease affecting multiple joints, but intra-articular injections might offer greater benefits in a patient with severe and long-lasting disease in a single joint.
No conflicts of interest were declared.
This article originally appeared on MDedge.com, part of the Medscape Professional Network.
Source: MedSpace