Injecting Smart Glue Could Be A Temporary Fix For Severe Eyeball Injury
Researchers have developed a new treatment that involves injecting smart glue into the site of a major injury in the eyeball. This then solidifies into a plug to seal the wound.
In theory, this should give the patient more time to get to safety and receive medical treatment in order to permanently close the injury and hopefully save the eye from further damage.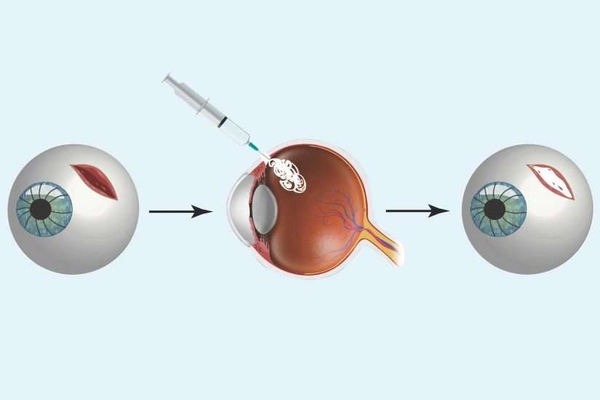 Image: IFL Science
Although less discussed, serious eye injury is a major problem in modern warfare. "If you look at historical data over the last several decades, the rate of war-related ocular injuries has steadily increased from a fraction of a percent to as high as 10 to 15 percent," explains researcher John Whalen, who co-authored the study published in Science Translational Medicine, in a statement. This is at least in part down to the changes in warfare, particularly when it comes to improvised explosive devices.
Yet even today, there is no rapid way to treat eye injuries on the battlefield. The best a medic can do at the time is to clean it up and then hope that the patient can get further treatment as quickly as possible. If not treated fast enough, however, eye injuries can lead to complications such as a detached retina and eventually blindness.
The team at the University of Southern California have taken a hydrogel known as poly(N-isopropylacrylamide), or simply PNIPAM, to help with this issue. The hydrogel has the strange properties of being liquid at lower temperatures, but becoming solid and adhesive at higher temperatures.
"Since the initial hydrogel's transition temperature was very close to the temperature of the human eye, we had to modify its properties to ensure that it would form a solid seal as soon as the gel was applied to the eye by a soldier or medic," says Niki Bayat, who led the research. "Providing a perfect, yet reversible seal, the smart hydrogel shows promise for the next generation of tissue adhesives."
To remove it, doctors simply have to cool the gel once more with cold water, so that it becomes soft enough to remove.
The next hurdle was to figure out a way to administer the eye glue easily while out on the battlefield. The team created a special syringe with a cooling chamber that is filled with the same chemicals used in instant ice cold packs. By simply adding water to the chamber, it cools the glue enough to make it liquid for use within just 30 seconds.
So far, the glue has been tested on the eyes of rabbits and pigs to great success. Human trials are expected to begin in 2019.
Source: IFL Science.