More than 1,000 US coronavirus deaths, Prince Charles tests positive for COVID-19
As of 10am on March 26, the world had 471,035 cases of SARS-CoV-2 virus infection, including 21,283 deaths. Up to now, China, Italy, USA, Spain, Germany, Iran, France, South Korea, Switzerland and the UK are the 10 countries with the highest number of COVID-19 cases in the world.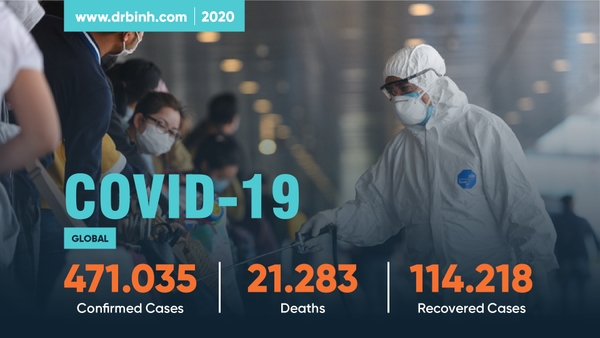 *Italy has added 683 more dead and 5,210 infections to its coronavirus toll, but its initial steep rise in cases has continued to level off two weeks into a nationwide lockdown.
The new figures brought the number of infections to 74,386 and placed Italy on track to overtake China in the next day or two in having the most reported cases in the world. Italy last week reported more dead than China and on Wednesday registered a total of 7,503 dead with the virus, confirming its place as the European epicenter of the pandemic.
*The number of deaths caused by the novel coronavirus rose to 1,031 in the United States on Wednesday, with 68,572 confirmed cases nationwide, a tracker run by the Johns Hopkins University showed. New York is one of the hardest hit states in the country, with 280 deaths in New York city since the start of the pandemic, according to the tracker. States and cities have instituted shelter-in-place and stay-at-home orders in an effort to curb the spread of COVID-19.
*The death toll in the country has surpassed China, according to figures released by authorities. Spain is second only to Italy as the country with the most fatalities attributed to the novel coronavirus. Latest figures: 49,515 infections, 3,647 deaths, 5,367 recovered.
The Spanish army has asked its NATO partners for coronavirus testing kits, ventilators and protective gear as part of the alliance's international assistance arrangements, Spanish armed forces chief Miguel Villarroya said on Wednesday.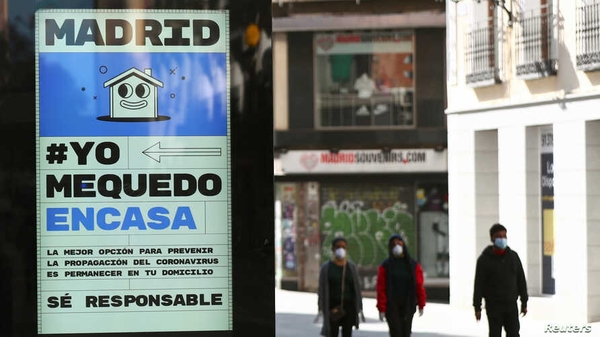 *Germany has confirmed nearly 34,000 cases of COVID-19 as of Tuesday morning (March 25), but just 171 deaths total. That number — about a 0.5% death rate — suggests the death rate of the novel coronavirus causing COVID-19 is way, way lower in Germany than it is in other countries, such as France, where about 4.3% of cases have ended in death or the United States with a 1.3% mortality rate from the coronavirus.
* The escalating outbreak in Iran has killed 2,077 people so far, health ministry official Kianush Jahanpur said on Wednesday, with 143 deaths recorded in the past 24 hours. Officials have complained that many Iranians ignored appeals to stay at home and cancel travel plans for the Persian New Year holidays that began on March 20.
The government has so far stopped short of imposing a lockdown on Iranian cities.The president said gatherings would also be restricted during Sizdah Bedar on April 1, a nature festival during which Iranians traditionally have picnics outdoors.
Authorities have called on Iranians to avoid public places and stay at home, while schools, universities, cultural and sports centres have been temporarily closed across the country.
* French health authorities reported 231 new deaths from coronavirus on Wednesday, taking the total to 1,331. France's health agency director Jérôme Salomon said the total number of coronavirus cases had risen to 25,233, a rise of about 13 percent in 24 hours. Salomon added that 2,827 people were in a serious condition, needing life support, up 12 percent compared to Tuesday and meaning that more than one third of France's 8,000 beds equipped with ventilation gear are occupied.
* Another 28 people have died in England taking the UK coronavirus death toll to 465. It comes after Scotland recorded another six deaths, Northern Ireland confirmed two more deaths and Wales a further five deaths. The 28 people who died in England were aged between 47 and 93, NHS England said.
Prince Charles, the heir to the British throne, 71, has tested positive for coronavirus after "displaying mild symptoms," Clarence House, his official royal residence, said in a statement Wednesday. The Prince of Wales is self-isolating at a royal estate in Scotland, and his wife Camilla, 72, has tested negative for the virus.
* Vietnam has confirmed 148 infections, including 131 active cases.The earlier 17 cases were discharged after treatment. Of the current cases in hospitals, 15 have tested negative at least once.
Many of active cases are Vietnamese nationals retuning from Europe and the U.S. and foreigners visiting from the same regions. Starting March 22, Vietnam has suspended entry for all foreign nationals, including those of Vietnamese origin and family members with visa waivers.
Source: Worldometers, Johns Hopkins University, Reuters, France 24