Sick but want to avoid the Doctor's Office? Get FREE medical help from home!
Social distancing on account of coronavirus has started affecting hospitals and health clinics. If you're worried about the coronavirus, you may be able to get healthcare at home, either virtually or in person through Medihome.
If you're not feeling well and want to see a doctor, you may be concerned that going to a physician's office, an urgent care facility, or a hospital could expose you to the coronavirus disease COVID-19.
People are understandably worried that they are going to get sick if they go to the doctor. This is a situation where going to get care can put you more at risk, and people may want to seek other options such as virtual consultation.
Getting care at home, at least initially, is exactly what health officials want you to do now, too. The World Health Organization (WHO) and the Centers for Disease Control and Prevention (CDC) are calling for hospital and healthcare providers to increase the use of telehealth services to ease pressure on healthcare facilities, reduce exposure risks for those who don't have the virus, and treat people who are quarantined at home.
For those who are having health problems during Covid-19 outbreak, FREE online video doctor visits of Dr.Binh Tele_Clinic is an extremely useful solution for social distancing and epidemic prevention at home. Video visits are easy, secure, and part of your coordinated care, so you can always get the care you need.
From your smartphone, tablet or computer, it's never been easier to have a live, on-demand video visit with a physician for all your urgent care needs. Get a diagnosis or treatment – all in one quick session – for patients 12 and over.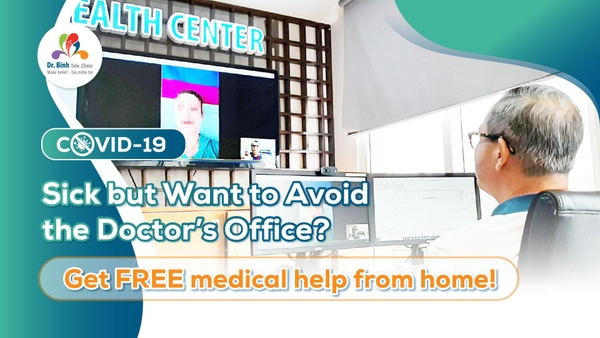 Nadia R. (27 years old, Hanoi) is a foreign teacher from South Africa, who is currently teaching English in Hanoi. Recently, she has shown runny nose, sore throat, tiredness and sweating. She signed up for online medical consultation via video call with Dr.Binh Tele_Clinic that she had been following for a long time.
Talking to the doctor, she said that she did not have any epidemiological factors such as: moving through the epidemic area, contacting people with Covid-19 positive. But she still felt worried because the symptoms were quite similar to what she read about Covid-19.
Fortunately, she only got a common cold, just need to take medicine as directed by the doctor after Dr.Vu Quoc Binh connected directly with her through Telehealth system.
"I felt it was wise to sign up for counseling. Doctor started directly the video consultation at my appointed time. Seeing doctor face to face, made me much more comfortable. It was great that I only had a mild flu. Following the medical advice and medication prescripted by doctor helps me a lot to reduce unpleasant symptoms. After that, all my medical records and prescriptions updated online as EHR on Medihome app. That impressed me a lot. I feel like the doctor is always watching over me and beside me. Thank you Dr. Binh and clinic very much indeed. " Nadia said.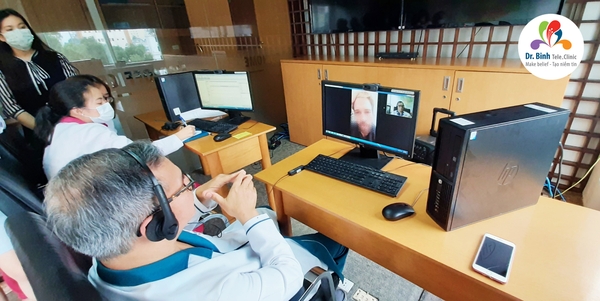 Not only timely consultation, patients will be monitored and guided treatment through Medihome app very conveniently. Medihome allows users to share reports and images, and schedule online video doctor calls. It's available 24 hours a day in 20 specialties. Medical records, results, prescription are updated quickly on Medihome, easily look up and book a follow-up appointment with just one click on your phone.
How to schedule video visits online?
Quickly and easily make your video visit appointments online with FREE initial cost during Covid-19 outbreak, whenever you like. Just follow these steps:
Step 1:
<Method 1> Call 1900 9204 to see the operator
Step 2: Just choose a time that works best for you. At the appointment time, the Doctor will directly contact online consultant with you via Video Call. You only need to talk to your doctor about the issues you need to consult and get medical advice.
Protect yourself, your doctor and your community and speak to a doctor about your symptoms without leaving your home.
Be on your way to feeling better with MEDIHOME
Schedule a video doctor consultation online anytime, anywhere.

Manage electronic records for yourself and your family easily and safely.

Find the medical facilities location nearest to you.

Update all the official and latest medical/health news.

Offer diversified services in specialties: periodic health examinations, general examinations, health check-up for work permit,....
DR. BINH TELE_CLINIC
11-13-15 Tran Xuan Soan Street, Hai Ba Trung Ward, Hanoi
Hotline: 19009204
Email: info@drbinh.com - Website: www.drbinh.com
Facebook: www.facebook.com/biquyetchamsocsuckhoe