Vietnam launches advisory message 5K to prevent Covid-19 spread
The good observance of the 5K message is a "steel shield" to protect people from the Covid-19 pandemic.
Vietnam's Ministry of Health (MoH) has officially announced a 5K (in Vietnamese) message to help citizens get used to living safely with the Covid-19 pandemic in a new normal.
5K means "Khau trang" (face mask) - "Khu khuan" (disinfection) - "Khoang cach" (distance) - "Khong tu tap" (no gathering) - "Khai bao y te" (health declaration).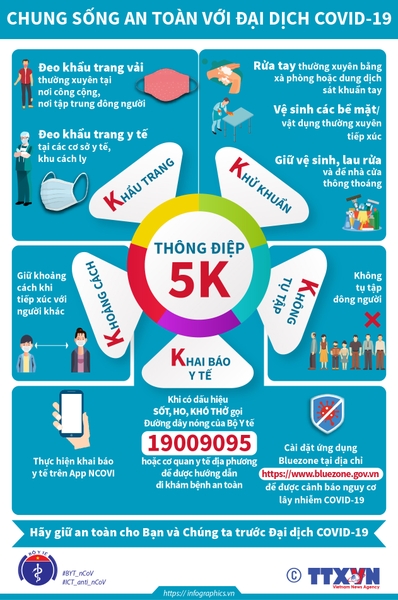 Deputy Minister of Health Nguyen Truong Son emphasized that the good observance of the 5K is a "steel shield" to protect people from the Covid-19 pandemic.
Up to now, Vietnam has fundamentally put the Covid-19 hot spots under control and successfully implemented the disease prevention strategy in general and testing strategy in particular, said the deputy minister.
Son added that there remains a risk of Covid-19 pandemic resurgence and the risk would be higher if precautionary measures are not put in place.
By launching the 5K message, the health ministry encourages people to regularly wear face masks at public places and crowded areas, wear medical masks at medical facilities and quarantine areas.
According to experts, the risk of a resurgence of the Covid-19 pandemic is latent, so staying vigilant is a must, as cold and dry winter conditions favor the transmission of the virus.
Local residents are still recommended to regularly wash hands with soap or hand sanitizers, clean surfaces and frequently touched objects (door knobs, mobile phones, tablets, tables, and chairs). People are also asked to keep safe distance with each other and avoid mass gatherings.
The MoH will keep issuing more instructions and designing communication programs, including a music video with the participation of over 100 artists and singers, to further disseminate the message, according to Son.
Source: Hanoi News