Vietnam reports all 16 COVID-19 patients as recovered
All 16 people in Vietnam infected with a new coronavirus have been cured, the health ministry said on Tuesday, adding that no new cases have been recorded since Feb 13.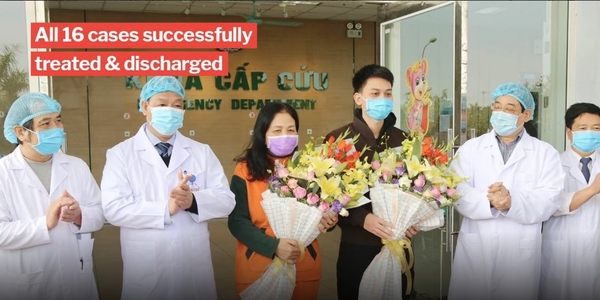 The last known patient, a 50-year-old man infected by his daughter who returned from China's central city of Wuhan, where the virus first emerged, has recovered and is in good condition, the ministry said in a statement.
It was not immediately clear when the last patient would be discharged from hospital. The rest, including a three-month-old baby, are improving, the ministry added.
Vietnam's first report of the virus was about two Chinese citizens infected on Jan 23. The last patient was discharged on Wednesday (26 Feb).
Strengthening anti-epidemic measures to remain vigilant
Prime Minister Nguyen Xuan Phuc signed a directive to strengthen measures against the coronavirus outbreak amid new concerning developments across the world.
He notes that even though Vietnam managed the outbreak well, there is still a need for more action to prevent and fight the epidemic. Entry denied to people from or transiting through affected regions in South Korea.
Under this directive, Vietnam will deny entry to people from or transiting through epidemic-hit regions of South Korea. Those on official missions will also need to fill out health declaration forms and are subject to 14-day quarantine when they return.
Vietnamese citizens were also told not to visit countries with higher COVID-19 risk unless absolutely necessary. Those who do also face the 14-day quarantine.
Meanwhile, the public security ministry must provide information of all passengers from South Korea entering Vietnam from February to relevant local authorities. This to carry out monitoring and quarantine if necessary.