Vietnam speeds up human trials for second Covid-19 vaccine
Human trials for Vietnam's second homemade Covid-19 vaccine could be completed a month ahead of schedule for commercial production to begin in the fourth quarter.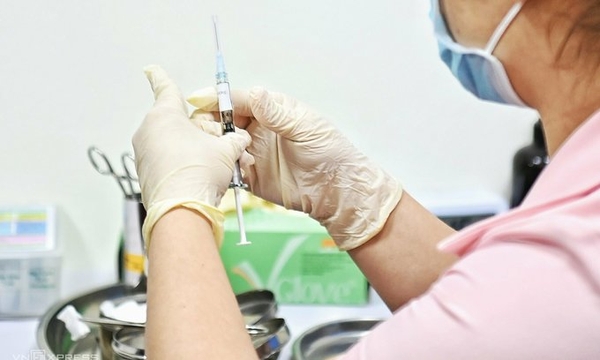 The progress of testing the Covivac vaccine on humans is being speeded up, but all the steps will guarantee safety and quality for the product, Duong Huu Thai, head of the Institute of Vaccines and Medical Biologicals (IVAC), which has developed the vaccine.
IVAC has mapped out a three-phase plan for the human trials starting January 21 and lasting until the end of this year so that the product can enter the market by next year.
As initially planned, the first phase was to be finished in July and for the second phase to start the same month or in August before IVAC called for volunteers and started the third phase in November.
But now the institute says it could start the second phase as early as June because all 120 volunteers chosen for the first phase would have received the first shot on April 27 and as per current schedule, get the second shot on May 15.
The group of 120 volunteers for the first phase of this vaccine's human trial are between 18 and 59 years of age.
They are divided into five groups - 20 who receive the placebo, and 100 who are injected with the vaccine at three different levels of 1, 3 and 10 micrograms.
According to the protocol, eight days after receiving the second shot, volunteers will have their blood tested and health checked and 14 days since that shot, their blood samples will be taken for antibody testing.
This means the first phase could be completed within May.
Vu Dinh Thiem, director of the Center for Clinical Trials under the National Institute of Hygiene and Epidemiology, said by Monday, 36 have received two shots of the Covivac.
So far, side effects recorded in vaccinated volunteers are muscle pain at the injected area, headache and muscle pain at several parts of the body.
"If the levels of side effects are lower than or a little bit higher than the group receiving the placebo, the vaccine is concluded to be safe," Thiem said.
As soon as all three phases of human trials are completed, IVAC will submit an emergency licensing application for Covivac.
Covivac is the second made-in-Vietnam vaccine that is being tested on humans.
The first one, Nanocovax by HCMC-based Nanogen Pharmaceutical Biotechnology JSC, has proven immunogenic on all volunteers following its second phase of human trials.
Vietnam is currently developing four domestic Covid-19 vaccines. The other two are Vabiotech by the Vaccine and Biological Production Company No. 1 and an unnamed one developed by the Center for Research and Production of Vaccines and Biologicals.
Source: VnExpress