Why having a probiotic yogurt each day could help to alleviate symptoms of Alzheimer's disease
Eating yogurts or health drinks which contain live bacteria may help improve the memories of people with Alzheimer's disease, research suggests.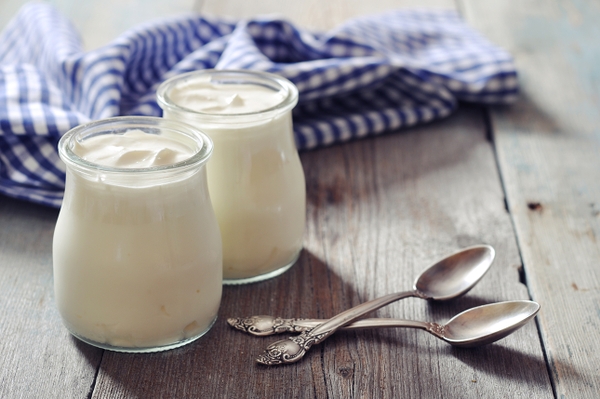 Probiotics are made of beneficial bacteria taken as dietary supplements

They are known to protect against irritable bowel disease and diarrhoea

But now they have been found to improve brain function for the first time

A daily dose over 12 weeks improved Alzheimer's patients cognitive ability
Drinking milk carrying the 'good bacteria' found in pro-biotic drinks similar to those found in Yakult and Activia yogurt led to improvements in people suffering from the incurable disease.
There were 'moderate but significant' improvements among the Alzheimer patients – who were aged 60-95, the study found.
One half of the group of 52 men and women with Alzheimer's disease saw half consume a daily 200ml milk drink enriched with four probiotic bacteria.
For the first time scientists have shown probiotics - beneficial live bacteria and yeasts taken as dietary supplements - can improve cognitive function in humans
These were: Lactobacillus acidophilus, L. casei, L. fermentum, and Bifidobacterium bifidum.
The other half had a daily milk drink containing no probiotics.
Before starting the study, the participants gave blood samples and were tested for cognitive function.
They had to answer a questionnaire known as the Mini Mental State Examination (MMSE).
Tasks include asking what the date is, counting backwards from 100 by sevens, naming objects, repeating a phrase and copying a picture.
All the tests were repeated after the 12 week study to see if there were any improvements in people's scores.
The results showed the average score on the MMSE questionnaire significantly increased in the treatment group, from 8.7 to 10.6, out of a maximum of 30.
There were no improvements in the non-treatment group – where scores deteriorated slightly - from 8.5 to 8.0.
Probiotic yoghurts improve memory, concentration and thinking in Alzheimer's patients, scientists have discovered
All the people remained severely cognitively impaired but experts behind the research said the results showed the impact of probiotics over just a short period.
Professor Mahmoud Salami, senior author on the study from Kashan University in Tehran, Iran, said: 'In a previous study, we showed that probiotic treatment improves the impaired spatial learning and memory in diabetic rats, but this is the first time that probiotic supplementation has been shown to benefit cognition in cognitively impaired humans.'
He said the treatment with probiotics also resulted in lower levels of fat and cholesterol in the blood, alongside other potential markers of disease.
'These findings indicate that change in the metabolic adjustments might be a mechanism by which probiotics affect Alzheimer's and possibly other neurological disorders,' he said.
'We plan to look at these mechanisms in greater detail in our next study.'
Dr Rosa Sancho, head of research at Alzheimer's Research UK, said: 'The brain is often viewed as being separate from the rest of the body but scientists are understanding more about how changes in the body can impact upon the brain too.
'This new study raises interesting questions about the link between the gut and the brain, and their association with Alzheimer's disease.
'The improvements in memory and thinking seen in people with Alzheimer's disease in this study will need to be repeated in much larger studies before we can understand the real benefits of probiotics for the brain.
'We don't fully understand how changes in the gut could be affecting the brain, and Alzheimer's Research UK is funding research in this area to improve our understanding of this link.'
The study was published in the journal Frontiers in Aging Neuroscience.