Free 50 Colposcopy Tests Celebrating International Women's Day 8/3
Celebrating International Women's Day 8/3 with Us! Dr.Binh Tele_Clinic offers gratitude gifts of 50 FREE colposcopy for all women. Valid from March 6 to March 12, 2021. REGISTER HERE.
What is Colposcopy?
Colposcopy is a procedure to closely examine your cervix, vagina and vulva for signs of disease. During colposcopy, your doctor uses a special instrument called a colposcope.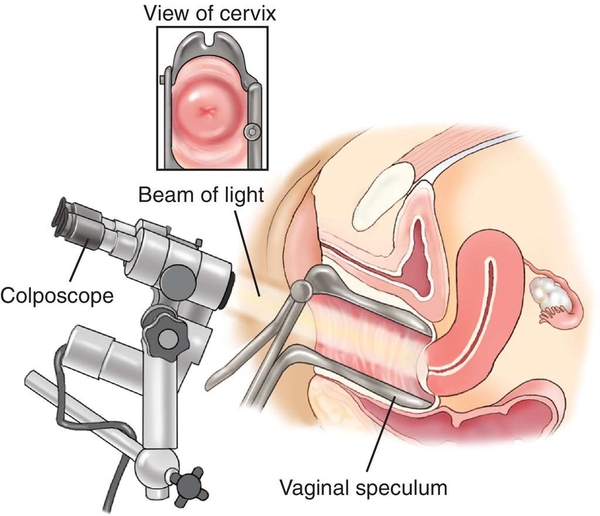 Colposcopy can be used to diagnose:
Genital warts

Inflammation of the cervix (cervicitis)

Precancerous changes in the tissue of the cervix

Precancerous changes in the tissue of the vagina

Precancerous changes of the vulva
When a colposcopy may be needed
You may be referred for a colposcopy within a few weeks of cervical screening if:
some of the cells in your screening sample are abnormal

the nurse or doctor who carried out the screening test thought your cervix did not look as healthy as it should

it was not possible to give you a clear result after several screening tests
A colposcopy can also be used to find out the cause of problems such as unusual vaginal bleeding. Even when you are diligent at maintaining good personal hygiene, gynecological diseases can appear unexpectedly. Therefore, you should discuss concerns that you face and become knowledgeable about common female problems.
Dr.Binh Tele_Clinic offers

FREE COLPOSCOPY

for all women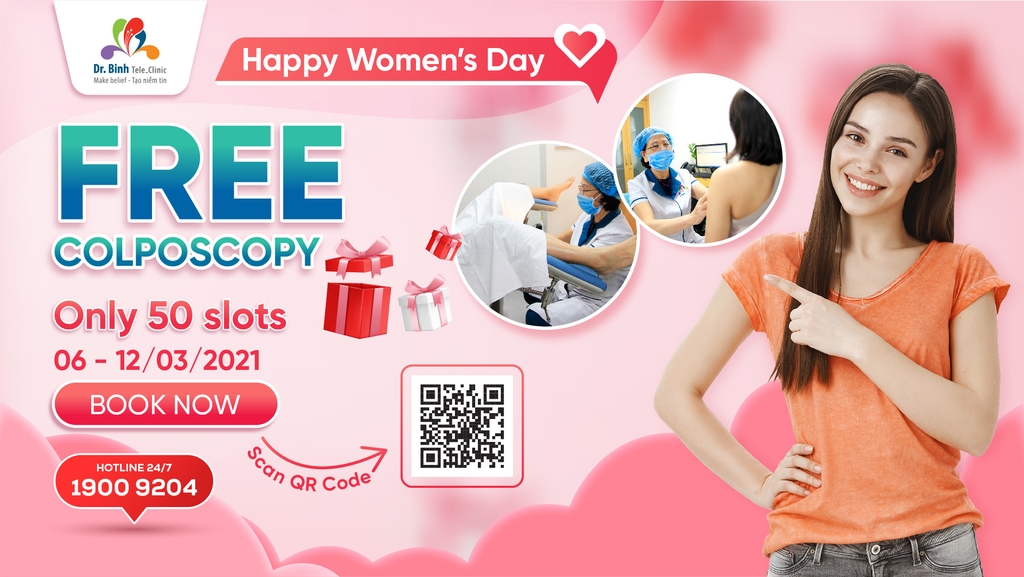 On the occasion of International Women's Day 8/3, Dr.Binh Tele_Clinic offers FREE 50 COLPOSCOPY TESTS for all women to ensure more comprehensive health care, better disease prevention and focused women health education. Such preventative care will ultimately also turn out to be more economical for you.
Valid only from March 6 to March 12, 2021. REGISTER HERE.
Terms & Conditions:
Each customer is entitled to the offer once only

The offer is not transferable nor redeemable for cash or any other promos

The preferential service does not include fees for examination, doctor consultation, photo printing and other additional tests (if necessary);

Not applicable with other promotions in the same visit;

Not applicable to customers using insurance cards;

Limited to 10 visits/day x 5 days to ensure service quality.
How you prepare before colposcopy
To prepare for your colposcopy, doctors may recommend that you:
Avoid colposcopy during your period

Don't have vaginal intercourse the day or two before your colposcopy

Don't use tampons the day or two before your colposcopy

Don't use vaginal medications for the two days before your colposcopy

Take an over-the-counter pain reliever, such as ibuprofen (Advil, Motrin IB, others) or acetaminophen (Tylenol, others), before going to your colposcopy appointment
Colposcopy is a safe procedure that carries very few risks. At Dr. Binh Tele_Clinic, the application of modern colposcopy and sterile procedures helps the diagnostic process achieve the most accurate results. As a medical examination and treatment facility with modern equipment, experienced and highly qualified medical staff, Dr.Binh Tele_Clinic shall always strive to develop and provide a flexible examination process, save time, and optimize comfort for all customers.
As a woman, loving and caring for yourself from the smallest things, taking care of your health is the key to making you happy and full of life.
Sign up for FREE today. Our highly trained staff have years of experience performing Colposcopy procedures and are ready to answer any questions you may have. Please give us a call at 19009204
Contact details:
DR. BINH TELE_CLINIC
No. 11-13-15 Tran Xuan Soan, Pham Dinh Ho Ward, Hai Ba Trung District, Hanoi
Hotline: 19009204
Email: info@drbinh.com - Website: www.en.drbinh.com
Facebook: www.facebook. com / biquyetchamsocsuckhoe